Newest Reviews:
New Movies -
Abraham Lincoln: Vampire Hunter
Old Movies -
Touki Bouki: The Journey of the Hyena
The Strange Affair of Uncle Harry
Archives -
Recap: 2000, 2001, 2002, 2003, 2004 , 2005, 2006, 2007 , 2008 , 2009 , 2010 , 2011 , 2012
Precogni-TIFF, or The Festival in My Head
Friday, September 13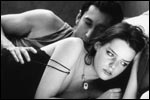 Sex is Comedy – Or not, I suppose. There are intermittent laughs to be had in this behind the scenes look at the fabricated filming of Fat Girl, but they're the sort that seem awfully stuffy at 9 in the morning (… festival fatigue… growing… ). Some of the self-reflexivity will be a kick for Breillat fans (all ten of us…) but I couldn't imagine most of the audience getting into this inside joke about prosthetic penises and nonplussed crew members.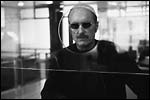 Assassination Tango – Duvall's The Apostle was one of the most overlooked films of the last few years (I'd love to see the longer cut that played a few years ago at Toronto), but this one's not really great at all. To say that this portrait of an assassin in Argentina with a crisis of conscious feels a bit clichéd is a massive understatement, but there are effective movements here, most notably in the tango clubs that the protagonist frequents. Will anyone be surprised when it's revealed that he's not in South America for the reason he thought? I sure wasn't.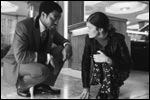 Dirty Pretty Things – This film, starring Audrey Tatou, seems about as far from her Amelie as possible. In fact, it almost seems an answer to the attacks that movie underwent when French critics cried that it seemed to take place in a whitewashed world. Set in a London nightlife populated by illegal immigrants, DPT shows us a side of the city that we've rarely seen before in films. The caper plot only is an excuse to show the extremes that these people must go to in order to avoid deportation, and it builds a sobering picture of the sad state of affairs that is their reality without quite sacrificing generic thrills.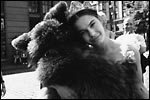 Bear's Kiss – Touching and deceptively simple, Sergei Bodrov's Bear's Kiss plays like a modern fairy tale. It tells the tale of a lonely girl in a traveling circus troupe who affixes her affections onto a bear when she has no one else to admire. Bodrov fills the film with images that turn it into a bigger political allegory without giving up its charm. By the end of the movie, though, you realize that the simplicity that you thought existed was as much an illusion for you as it was for the heroine. Its unadorned emotional examinations about emotional and geographic dislocation hit like a hammer.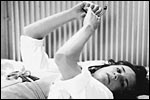 Vendredi Soir – Claire Denis is one of contemporary cinema's most adept visual storytellers, and here she as much with images as in her best work. Similar to what she did with Beau Travail, here she filters a more complex work of fiction into its cinematic essentials, and turns it into a poetic meditation on the themes that existed in the original work. Many people bristle at this approach, but I find it hypnotic. Her camerawork seems so much more sensual than that of her peers, and she proves once again that no one is nearly as adept at photographing skin as she is.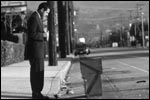 Punch Drunk Love – Paul Thomas Anderson's greatness seems to lie in his ability to make his idiosyncrasies seem utterly genius once they're transferred to celluloid, and this is his most idiosyncratic work yet, by far. Amazingly, Adam Sandler's presence doesn't hurt a bit (though he seems hardly necessary to the picture's success). There are amazing moments here, and I am loathe to spoil them for anyone, especially since the film opens nationwide next month. I'll just say that even after the massive, sprawling brilliance of Magnolia, this is far from a disappointment.
September 6 , September 7 , September 8 , September 9 , September 10 , September 11, September 12 , September 13 , September 14 , Home