Newest Reviews:
New Movies -
Abraham Lincoln: Vampire Hunter
Old Movies -
Touki Bouki: The Journey of the Hyena
The Strange Affair of Uncle Harry
Archives -
Recap: 2000, 2001, 2002, 2003, 2004 , 2005, 2006, 2007 , 2008 , 2009 , 2010 , 2011 , 2012
Precogni-TIFF, or The Festival in My Head
Monday, September 9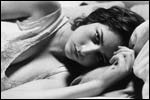 L'Idole – Helen Hunt clone Leelee Sobieski moves into Jodie Foster territory here by delivering a performance in her fluent French. In what feels at times like an extension of Leelee's Lolita-esque character from Kubrick's Eyes Wide Shut, L'Idole focuses on sexual life of her nymphet as she moves from a relationship with her French boyfriend to one with Mr. Zao, an older, classier Chinese man (which is handled with a bit more sensitivity than in Christine Lahti's My First Mister). The best moments, besides those that explore the carnality of these characters, are the surprisingly pensive ones that don't seem to pop up quite as often as they should.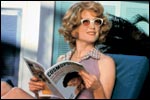 Far From Heaven – After making a film in the style of Eisenstein, Kubrick, and Welles, Todd Haynes tackles another master director – Sirk – in this lushly styled melodrama. If the results aren't quite as brilliant as Safe, Haynes' last outing with the astonishing Julianne Moore, Heaven soars whenever the score bubbles up and the visuals glow. Quirky touches abound, which means it might not find as large an audience as Sirk's films did, but it's smarter than the average homage. There are solid performances across the board here, but Moore, like cinematographer Edward Lachman, seems like an instant awards contender. She completely disappears into her slightly dowdy housewife role.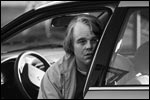 Love Liza – Phillip Seymour Hoffman's biggest role to date comes in a film that's a little less than brilliant, but it hardly matters since he once again asserts his place among the finest of his generation's actors. Attempting to deal with his wife's recent suicide, Hoffman creates a gasoline-sniffing character whose presence you can't quite shake after the film ends, despite the weaknesses of the script. He lends the film an emotional intensity that it otherwise lacks.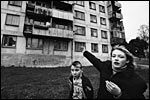 Lilya 4-Ever – This one's a major shift toward the Downbeat (note the capital "D"!) for Swedish filmmaker Lukas Moodysson. It's not quite as eminently likable as his past efforts, but instead of a rich emotional world like he created in Together he focuses on the very specific melancholy of a Russian girl. The childlike whimsy that accented his first two films turns into something more sinister here with devastating results. It's tough to digest a movie this stark in a festival setting, but my immediate reaction is that it's a significant step forward.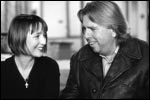 All or Nothing – Essentially regaining his bearings after Topsy Turvy Mike Leigh's latest seems like it should be a disappointment since it doesn't do anything he hasn't done before, but the improvisational acting's as top-notch here (especially Spall) as it's ever been in Leigh's work and the film's glum working class setting still feels affecting and immediate very post-Thatcher. It's only lessened by its overly schematic nature (which rears its ugly head most noticeably during the final act) and its unrelentingly bleak tone (not awful in itself, but when you could make Life is Sweet why rub our noses in this?).
September 6 , September 7 , September 8 , September 9 , September 10 , September 11, September 12 , September 13 , September 14 , Home