Newest Reviews:
New Movies -
Abraham Lincoln: Vampire Hunter
Old Movies -
Touki Bouki: The Journey of the Hyena
The Strange Affair of Uncle Harry
Archives -
Recap: 2000, 2001, 2002, 2003, 2004 , 2005, 2006, 2007 , 2008 , 2009 , 2010 , 2011 , 2012
Dark Habits (Pedro Almodóvar, 1983)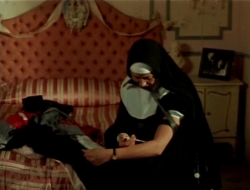 A convent becomes an unlikely den of sin in Dark Habits, Pedro Almodóvar's scandalous 1983 comedy. In it Yolanda (Cristina Sánchez Pascual), a nightclub singer and junkie whose boyfriend has died of an overdose, flees to a dilapidated nunnery in hopes of avoiding a murder rap. There, she meets a group of shamelessly blasphemous nuns (they have names like Sister Manure, Sister Damned, etc…) who engage in acts of mortification and indulge in drugs, lesbianism and porn in hopes of better understanding the plights of the forsaken. "Man will not be saved until he realizes he's the most despicable being ever created" one nun preaches, summing up their worldview It would be a mistake, however, to assume that religion itself is the target of Almodóvar's satire here. The faith of the nuns is not put into question. What is the target of ridicule, instead, are social structures that ask people to deny their true nature, making the film's critique broader than a targeted assault on Catholicism could be.
The plot of Dark Habits concerns the future of the convent, which is put on the brink of closing after its benefactor's greedy widow (Mary Carrillo) withdraws her funds. The plot is only interesting for Almodóvar, though, insofar as it allows him to concoct new situations for his characters. As the film unfolds, a series of revelations including blackmail, long-lost children, personal salvation, and hidden identities come to light, but none of it radically alters the tone, which deadpans as the nuns explain their perverse path to sainthood.
Dark Habits is a film in love with films and pop culture in general. Characters talk excitedly about the costumes in My Fair Lady. The bedroom where Yolanda stays has set decoration out of a Sirk film and when it is first introduced an appropriately romantic musical flourish is used. The Mother Superior (Julieta Serrano) decorates her office with portraits of icons like Theda Bara and Marilyn Monroe. As in several of Almodóvar's movies, men appear in only the most perfunctory of roles, and the film is no worse off for it. The director's style here is considerably toned down when compared to his later work, despite an already evident predilection for bold colors. That might come as a disappointment to some, but there is a looseness here that allows comedy to develop organically in a way it never could in a film like Volver or Broken Embraces.
54
Jeremy Heilman
07.21.12