Newest Reviews:
New Movies -
Abraham Lincoln: Vampire Hunter
Old Movies -
Touki Bouki: The Journey of the Hyena
The Strange Affair of Uncle Harry
Archives -
Recap: 2000, 2001, 2002, 2003, 2004 , 2005, 2006, 2007 , 2008 , 2009 , 2010 , 2011 , 2012
Hara-Kiri: Death of a Samurai (Takashi Miike, 2011)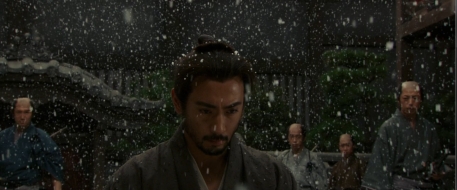 With Hara-Kiri: Death of a Samurai, Takashi Miike, who has become best known for his ability to shock audiences, finds a new method of achieving this goal. Here, he remakes Kobayashi's indisputable classic of Japanese cinema, catching us off-guard primarily with newfound maturity and formal mastery. Miike is a talented and adaptable director who has demonstrated considerable talent in the past across myriad genres, but not even his recent hit Thirteen Assassins is likely to prepare audiences for this exercise in controlled classicism.
The basic plotline of Hara-Kiri: Death of a Samurai begins in 17th-century Japan as a ronin makes what seems to be an insincere request to use a lord's home to commit seppuku honorably. This remains unchanged from the original film, and similarly this tale later spirals into a revenge plot. Indeed, Miike's version picks up much of the power of Kobayashi's due to its penetrating inquisition into whether it is possible to tell an honorable lie and its fierce condemnation of a society that values honor above life itself.
Death of a Samurai has been strikingly composed in 3-D, with widescreen framings that turn most environments into prisons. Often characters directly address the camera, drilling home the impression that these people are constrained by their tightly dictated social circumstances. Throughout, the period detail is palpable thanks to uniformly exceptional art direction and costuming. This detail is not fetishistic, however, given the film's radical tone. Indeed, the dark cinematography, darker still when under the shade of 3-D glasses, makes even outdoor scenes look like they are fading away before our eyes, suggesting the end of an era in every shot.
It wouldn't just be a bad pun to suggest that this film hits you in the gut. Because of Miike's framing, the brutality of the slaughter amid the beautiful and wholly composed courtyard is emphasized (though Miike's predictable use of gory makeup effects certainly helps the cause as well). The touching but slightly bloated flashback that makes up the film's middle third is the only major flaw in this admirable attempt to revist a film that need not have been remade. Kobayashi's 1962 version of Hara-Kiri was most concerned with the hypocrisies of being honor-bound. In this remake, the notion that the nation's deeply rooted formality and obsessive rituals are empty is intensified by the very fact that this is a remake. That events needlessly repeat themselves is the point, really. By rehashing the original film's radical message, Miike suggests that the forty years since this tale was last filmed have not shaken the nation's core values.
71
Jeremy Heilman
06.28.12