Newest Reviews:
New Movies -
Abraham Lincoln: Vampire Hunter
Old Movies -
Touki Bouki: The Journey of the Hyena
The Strange Affair of Uncle Harry
Archives -
Recap: 2000, 2001, 2002, 2003, 2004 , 2005, 2006, 2007 , 2008 , 2009 , 2010 , 2011 , 2012
The Strange Affair of Uncle Harry (Robert Siodmak, 1945)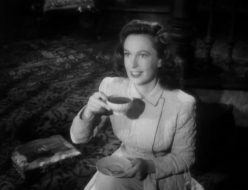 An inadvertently perfect murder plot paves a sad road to freedom in Robert Siodmak's small town noir The Strange Affair of Uncle Harry. Released in 1945, this twisted romantic drama wastes little time in establishing that its setting of small town New Hampshire is as corrupt and decaying as the urban backdrops of most film noir. The opening narration explains that the Quincey family, who sit at the film's center, lost its fortune during the Great Depression. The family indulges in opulence and pretensions without the wealth to back it up. Still, the town that they feel superior to may seem pleasant on the surface but is a hotbed of gossip and secrets. George Saunders plays Harry Quincey (whose uncle he is remains entirely unclear), a henpecked bachelor who lives with his two sisters. The textile factory where Harry works designing cloth patterns, in hopes of supporting their lifestyle, is described as a prison, which doesn't seem far from the truth. Harry seems entirely complicit in the arrangement, though, at least until Miss Deborah Brown (Ella Raines), a bachelorette from New York City ("Not bad… for an out of towner!" Harry's maid snaps) shows up.
At this point, Harry begins to court Deborah, which infuriates his younger sister Lettie (Geraldine Fitzgerald), whose deep attachment to Harry begins to hint at something more sinister. There are obvious incestuous overtones sprinkled throughout Uncle Harry, but they are neutered to the point that Lettie's extreme dependency seems utterly irrational at times. Worse yet, these subtexts are fatally undone at the last moment by a disastrous, censor-imposed dream sequence that entirely changes the tone of Thomas Job's original stage play. Still, this is a reasonably entertaining drama that skewers small town hypocrisy effectively. The film's general tone is similar to Hitchcock's Shadow of a Doubt, which preceded Strange Affair by two years, though the writing here is not nearly as sharp. Once the murder plot gets underway, it's the town's prejudices that see justice stymied, suggesting that the conditions for the presumed incest were created by more than just the Quncey family unit. Visually, Siodmak keeps things brighter than in his other noir films of the era (The Spiral Staircase, Phantom Lady, Christmas Holiday, The Killers, etc…), but that's not really the problem here. Had it ended two minutes earlier, The Strange Affair of Uncle Harry would have been a considerably more successful film. Like many Hollywood dramas of the 1940s, it stumbles during its dismount.
44
Jeremy Heilman
08.15.12