Newest Reviews:
New Movies -
Abraham Lincoln: Vampire Hunter
Old Movies -
Touki Bouki: The Journey of the Hyena
The Strange Affair of Uncle Harry
Archives -
Recap: 2000, 2001, 2002, 2003, 2004 , 2005, 2006, 2007 , 2008 , 2009 , 2010 , 2011 , 2012
Precogni-TIFF, or The Festival in My Head
Wednesday, September 11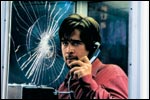 Phone Booth – I'm not sure what I was expecting, even though I hold Joel Schumacher in higher esteem than nearly everyone. The 80-minute running time here made me hopeful that this would be a tight little high concept thriller with no flab, but it unfortunately isn't. Silly subplots and plot holes seem all the sillier when you watch this kind of movie in a festival context, so maybe I'm to blame here. Colin Farrell is fine, but unremarkable. Frankly, I would have rather just watched Tigerland again.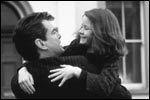 Evelyn – Top-notch work from the cast aside, this one can't compare to Haynes' Far From Heaven when attempting to convey the pressures of '50s mores. Shifting the locale from suburban America to Dublin means that we trade Heaven's lushness for something a bit more down and dirty, but I missed that stylization. Starting with a courtroom battle that separates a man (Pierce Brosnan) from his children, this movie eventually preaches "it takes a village." The uplift that comes about here is hard won, I suppose, but it didn't exactly make me want to cheer on my way out of the theater.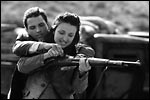 Kedma – I stumbled into this one because of a gap in my schedule, so I wasn't expecting much, so Kedma's relative failure doesn't disappoint much. For every impressive, chaotic moment of battle, there seems to be one horribly staged dialogue sequence that nullifies it. It seems to be director Gitai's mission to single-handedly make sure that I'm up to date on my Israeli history, and three films into his lecture, I'm starting to nod off…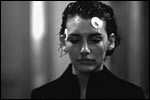 Happy Here & Now – My mind is swirling after this one, and it seems like Almereyda's peaking here in several ways, though not necessarily in the ones that you might hope. He deftly spins a tale about a missing sister, but then makes it a rumination about the way we perceive and alter our own individual reality. He seems a master of multiple media here, and uses them all to examine the central question of how we experience the world. More than any CGI-fueled spectacle this seems a film that simply couldn't be made twenty years ago, and in some ways I think most audience members aren't quite ready for it. The only disappointment comes that in this examination of artificiality and reality, some of what should be the emotional highlights feel a little more fake than genuine.
September 6 , September 7 , September 8 , September 9 , September 10 , September 11, September 12 , September 13 , September 14 , Home