Newest Reviews:
New Movies -
Abraham Lincoln: Vampire Hunter
Old Movies -
Touki Bouki: The Journey of the Hyena
The Strange Affair of Uncle Harry
Archives -
Recap: 2000, 2001, 2002, 2003, 2004 , 2005, 2006, 2007 , 2008 , 2009 , 2010 , 2011 , 2012
Precogni-TIFF, or The Festival in My Head
Saturday, September 7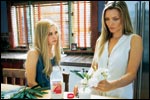 White Oleander – A bit more sensitive and intelligently observed than the average TV movie-of-the-week, I suppose, but really, what is that saying? I should have trusted my gut when I learned of the Oprah book club roots of this one, I guess, but there's no denying that the solid turn by Michelle Pfeiffer (who's become a tad underrated these days) makes this one worthwhile. Her performance eschews most of the clichés of the genre and is the one thing in the film that you can't predict. It's too bad no one else followed suit.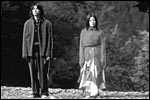 Dolls – I actually prefer Takeshi Kitano's quirky later works (Kikujiro, Brother) to those that are generally seen as his masterpieces (Fireworks, Sonatine), but this one's a bit too much even for me. He's doing some really interesting stuff here, layering fantasy against reality and setting up parallel stories that comment on each other, but it doesn't quite congeal like you keep hoping that it might. Far from a total wash, it's only the slightest of stumbles in the ongoing evolution of one of Japan's best working directors.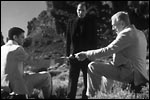 Intacto – Set in the middle of nowhere, this Spanish debut is a heck of a mindfuck whenever it's not boring you. Whenever the superb Max von Syndow's on-screen, though, you're never bored. The movie keeps shifting away from your expectations, switching from a sci-fi feel, to a cool game of wills, to a twist that makes you rethink everything you've seen up until that point. Whatever Intacto ultimately is though, it's a film that's been sure-handedly directed by a guy who's clearly one to watch.
Raising Victor Vargas – This uplifting tale of a young Lower East Side Latino has a bit more of a gritty feel than this sort of thing usually does, and that helps you power through a lot of the moments that might otherwise come off as saccharine. The non-professional cast is solid, if not quite as good as in David Gordon Green's George Washington, with which it shares a D.P. – the gifted Tim Orr – and a few surprising moments of real heartbreak.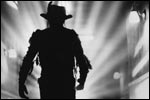 Bubba Ho-tep – Don "Phantasm" Coscarelli returns here with a wild, and wildly uneven, tale of an aged Elvis (Bruce Campbell, naturally) who battles a rest-home bound mummy in what should be his halcyon days. The premise of this Texas-set yarn alone is enough to power you through about half of its running time, but the sly sense of humor is what keeps you going once it becomes more focused on gore than good ol' balls-to-the-wall storytelling.
September 6 , September 7 , September 8 , September 9 , September 10 , September 11, September 12 , September 13 , September 14 , Home