Newest Reviews:
New Movies -
Abraham Lincoln: Vampire Hunter
Old Movies -
Touki Bouki: The Journey of the Hyena
The Strange Affair of Uncle Harry
Archives -
Recap: 2000, 2001, 2002, 2003, 2004 , 2005, 2006, 2007 , 2008 , 2009 , 2010 , 2011 , 2012
Precogni-TIFF, or The Festival in My Head
Thursday, September 12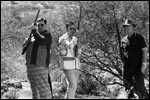 Dirty Deeds – This Aussie crime comedy has its moments (like whenever John Goodman is onscreen, for example), but some of it's a bit sloppier than it should be for it to really soar. Still, there's a lot of stuff here that works. The kitschy '60s set decoration gets as many laughs as the dialogue, some of the humor is wittier than you'd expect from a film named after an AC/DC song, and did I mention John Goodman is in it?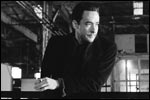 Max – Thankfully, this film about a childhood Hitler (an explosive Noah Taylor) eschews both the sap that powers most Holocaust dramas and the comic book simplifications that drove movies like Apt Pupil and Nicky Katt's turn in Full Frontal. Instead we get a reasoned, non-formulaic drama that explores many of the issues that seemed to fester under the Fuhrer's eventual dogma. There's something brave about showing a conflicted Hitler onscreen and if he doesn't wholly become human, he's certainly less of a monster here than I can ever remember seeing previously. Instead of going for easy answers, Max goes to the head of the class for asking tough questions.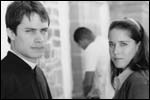 The Crimes of Father Amato – Gael García Bernal seems to be the actor on the cutting edge of contemporary Mexican cinema after starring roles in this film, Amores Perros, and Y Tu Mama Tambien, and in my book this one ranks somewhere above the latter, but below the former. As much as this film attempts to humanize the priests at its center, it doesn't really get beyond posing superficial questions of morality, and it suffers as a result. Still, for a mainstream film, it asks some compelling questions that are probably a lot more pertinent in Mexico than they are in the States.
Julie Walking Home – Though well-acted, this sentimental tale is a far cry from the complex moral dilemmas that fueled the Three Colors trilogy, which Holland helped write. Family dynamics are always shifting here, and half the time you struggle to understand why, exactly. Her grasp over the film seems out of reach more often than it should, and the large scope of this story does as much to sink it as it does to expand it.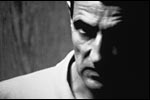 Irreversible – I pretty much reviled Noe's I Stand Alone, but this one gets a bit more respect, mostly because of its undeniably impressive style (which is considerably expanded over the one-trick pony that Alone was). Still, it's going to be a stomach churner for most of the audience (I haven't seen so many walkouts since Trouble Every Day), and I can't really say that Noe's created something so singular that it really feels worth the torture that you'll endure to see it. Enter at your own risk, I suppose would be the best quote here.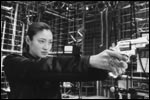 Alive – This action flick about a death row convict turned government agent feels familiar on the surface, but it's packed with enough visual pizzazz in its set pieces that you can't imagine complaining about the story much. Unfortunately between the set pieces, it's a bit of a yawner (especially at 1:30 A.M.), but you take the good with the bad, I suppose.
September 6 , September 7 , September 8 , September 9 , September 10 , September 11, September 12 , September 13 , September 14 , Home