Newest Reviews:
New Movies -
Abraham Lincoln: Vampire Hunter
Old Movies -
Touki Bouki: The Journey of the Hyena
The Strange Affair of Uncle Harry
Archives -
Recap: 2000, 2001, 2002, 2003, 2004 , 2005, 2006, 2007 , 2008 , 2009 , 2010 , 2011 , 2012
Carlos (Olivier Assayas, 2010)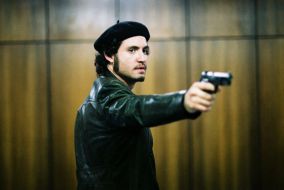 A television production in format but not form, Olivier Assayas' ambitious Carlos spans many years and many hours in recasting the life story of Venezuelan terrorist Carlos the Jackal. With a script that hews closely to the facts of the life of Illch Ramírez Sánchez (who adopted the "Jackal" moniker once he became a revolutionary), this action-oriented drama finds its talented director in territory that he recently explored with his similarly themed, but entirely fictional, works Boarding Gate and demonlover. Just as those two movies depicted espionage as a globalized phenomenon, Calros shows the international face of terrorism. Like those movies, this globe-trotting epic has as many scenes set in anonymous airports as in identifiable cities. Even more peculiarly, though, like those genre exercises, Carlos offers a kinky combination of sex and guns that, making this more titillating and exciting than standard biopic fare.
Carlos begins by observing the Jackal in the early phases of his career as a bomber in London, working on the behalf of Palestinian radicals. Before the credits roll at the end of the third chapter, though, the film will have covered over twenty years in his life. Throughout Carlos' massive run time, Assayas' remarkable sense of control remains evident. His compositions are unfussy, and his ability to pace a film of this length is impressive. Time and again, he plays with tone, offering viewers nudity to distract attention from incoming violence or shuttling his protagonist off-screen for an extended period. The Jackal lives a life on the run, so there always exists the threat that a casual party in a Paris apartment will become as packed with tension as a government raid. By cutting every scene to its bare minimum, Assayas ensures that the five and a half hours of footage scarcely feels like three. In all, this is a muscular, action-packed film, especially by the standards of the biopic. The real-life material that Ramírez Sánchez's life provided makes for compelling viewing.
Of course, there are segments in Carlos that are more immediately gripping than others (a tense hostage situation that takes about an hour of the run time is especially well-done), but Assayas seems keenly aware of this fact. He employs a hip period rock soundtrack, which helps the film immeasurably. Every time Assayas cues up another well-chosen song, the action snaps back into focus. The director uses this music not to underscore the many violent action scenes that pepper the film, but rather to grace the moments of preparation and tense stasis. This is a remarkably canny use of scoring, as it helps to recharge the viewer who has signed on for a five-and-a-half hour haul time and again. Still, despite these infusions of energy, Assayas resists glamorizing either Edgar Ramirez, his lead actor, or his characters' actions. Over the course of the film, Carlos is revealed to be less than meets the eye, and his agenda turns out to be founded less in some form of justice than in a skewed sense of machismo.
Ramirez, who shoulders much of the success of the project, carries the burden with ease. As a screen presence, he is suave and lethal in equal measures. He shifts languages and transforms his body radically over the course of the film, radiating dangerous charisma at every turn. Psychologically, he plays Ramírez Sánchez as something of a cipher, who talks through his guns and through his rough sexual conquests as much as through his words. As much as the spot-on period detail helps to mark the passing of time, the actor's demeanor and physical appearance make us aware that Carlos the Jackal's crusade spanned decades.
Because of its run time and subject matter, comparisons between Carlos and Soderbergh's Che will be inevitable, but Carlos stands confidently on its own terms, the epic genre film counterpoint to Sogerbegh's structuralist meditation. In terms of tone and style, Soderbergh's Traffic would be a far better point of comparison, although Assayas' work is linear in structure, and more tightly focused. In a way, though, this might be most easily parsed as something of a counterpoint to Spielberg's Munich. It offers both less moral complexity and less pretentious hand-wringing than that movie did, but gives a glimpse into the other side of the struggle portrayed in that film. Carlos is packed with ideas, but they are stated only obliquely, rather than in Kushner-penned monologues. Carlos is characterized as an ideologue mostly in retrospect. He is a man of action first and foremost, making him valuable not only to the world powers who wish to utilize or villanize him, but also as an ideal subject for a movie with action on its mind.
The scale of Carlos presented Assayas with a considerable challenge, but he has risen to the occasion, delivering what might be his most accessible feature to date. That scale is a challenge to viewers as well, but it's a necessary one, as it allows Carlos to chart the changing status of a revolutionary figure over time. One of the key insights here is how radicals with no solid base of support will invariably sit in a reactionary position, changing alliances as powers shift on a global scale. As Carlos the Jackal shifts from hero to outsider, fighting political struggles both with his allies and on the world stage, a rich impression of the variable political status of a terrorist becomes clear. It's a conceit that, like Carlos itself, requires a bit of time to make itself known.
72
Jeremy Heilman
06.23.10