Newest Reviews:
New Movies -
Abraham Lincoln: Vampire Hunter
Old Movies -
Touki Bouki: The Journey of the Hyena
The Strange Affair of Uncle Harry
Archives -
Recap: 2000, 2001, 2002, 2003, 2004 , 2005, 2006, 2007 , 2008 , 2009 , 2010 , 2011 , 2012
The Borrower Arrietty (Hiromasa Yonebayashi, 2010)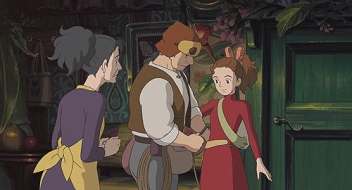 Studio Ghibli, the world's finest animation house, delivers yet another delightful feature with Hiromasa Yonebayashi's The Borrower Arrietty. A gently updated, but generally faithful adaptation of Mary Norton's beloved 1952 children's novel "The Borrowers," Arrietty offers the sort of quality storytelling that seems effortless yet is rarely achieved within the animated medium. The action here has been subtly shifted from mid-century England to contemporary Japan, with little compromise in tone. Telling an outwardly simple story, Arrietty focuses on a small family of "borrowers." Like humans in every detail but size, these diminutive folk live in the floorboards of a quaint country home and forage for supplies. Young Arrietty, who lives with her stoic father Pod and her histrionic mother Homily, is nearing the age at which she must become self-sufficient when twelve-year-old, full-grown human Sho, resting before he receives a potentially life-threatening heart operation, moves into the home.
As Arrietty tentatively approaches Sho, the world between humans and borrowers threatens to collide, but the film, scripted by master animator Hayao Miyazaki, eschews most predictable forms of drama. Instead, in this rare character-driven cartoon, deeply felt themes of abandonment, environmental scarcity, and the emergence of self-sufficiency in children (each common in the Ghibli oeuvre) begin to come through. Surprisingly, however, these themes are relayed by action as much as words. Instead of dictating values, in the didactic manner of most cartoons, Arrietty unfolds as if it has taken its moral lessons to heart. The film's story is told with next to no narrative fat and a story that proceeds with a quiet sense of purpose. Where Miyazaki diverges from the source novel, he does so intelligently, such as in the beautifully open ending, which eschews conflict, opting instead to observe how coming to mutual understanding can broaden worldviews.
Similarly, the animation here is both workmanlike and quietly stunning. Attention to detail is privileged over spectacle (almost to the point of disappointment… there are not really any singular set pieces here). The overall effect is that the animation operates almost invisibly, refusing to impede upon our appreciation of the characters or to treat its marvelous world as anything other than a matter of fact. Indeed, the animation here seems to gain its biggest advantage over live action because nothing in Arrietty distractingly announces itself as a special effect.
The Borrower Arrietty is graced with a small scale that offers not an opportunity to turn the world into a toybox, as in Pixar's Toy Story series, but instead a chance to contemplate that which is often overlooked. An unadorned recreation of nature, as in many Ghibli films, is deemed sufficient to provide most of the wonders here. Instead of escapism, this film urges contemplation. The end result shames lesser, busier children's films, which almost inevitably incoherently resolve their moral dilemmas with violence and chase scenes. The Borrorower Arrietty may be quieter and more directly aimed at children than some other Ghibli efforts, but it is up to the studio's usual high standard nonetheless.
73
Jeremy Heilman
07.12.11