Newest Reviews:
New Movies -
Abraham Lincoln: Vampire Hunter
Old Movies -
Touki Bouki: The Journey of the Hyena
The Strange Affair of Uncle Harry
Archives -
Recap: 2000, 2001, 2002, 2003, 2004 , 2005, 2006, 2007 , 2008 , 2009 , 2010 , 2011 , 2012
Nowhere Boy (Sam Taylor-Wood, 2009)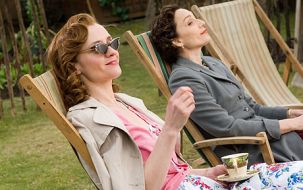 Perhaps it must be acknowledged that any movie centered on a figure as renowned and beloved as John Lennon risks becoming a hagiography. Still, Sam Taylor-Woodís debut feature Nowhere Boy exacerbates the issue by filming Lennonís life story in the style of a British prestige picture. Far less experimental or energetic than any of the Beatles-sanctioned works that came out during Lennonís life, Nowhere Boy offers sensitively handled but strangely nostalgic material.
The film begins in an almost absurdly conventional manner, focusing on young Johnís home life, the death of his beloved uncle, and his struggles in dealing with his tightly wound aunt (Kristin Scott Thomas, who provides the best justification for the film's existence). By the time Lennon is told that rock and roll is really about sex, it seems that no clichť will be left unrealized. There is a strange impulse here to convince us that Lennon is the same as the rest of us, to make the exceptional universal. None of the biographical details that we are told about Lennon are particularly well-developed, with all of them placed under the bland umbrella of formative experience (itís suggested, for example, that his anti-establishment leanings were formed when he was expelled from school). When Lennon meets a fifteen-year-old Paul McCartney (Thomas Brodie Sangster, memorable), and the artist within him begins stirring, his demeanor finally begins to shift, but it soon becomes apparent here that the real drama in Nowhere Boy surrounds the stormy relationship between Johnís mother and aunt.
The young actor Aaron Johnson seems an odd choice to play John Lennon. His generic, cocksure swagger, equal parts Brando and Elvis, seems a far cry from the public figure of Lennon that the world embraced. Itís a difficult characterization to accept, as evidenced by the brief moment of shock that occurs about one-third of the way through the film, when his full name is uttered, and we are reminded that this study in teen angst is, indeed, a film about John Lennon. His performance, which is one that would leave the audience wanting more by any standard, seems a clear disservice to Lennonís legend. It doesnít humanize the musician. It bowdlerizes him.
Similarly, the finely polished naturalism that Taylor-Wood has opted for here belies the reputation that she established in the art world. Although her short Love You More suggested that she was capable of coaxing fine performances from her actors, the overwhelming blandness of this tale implies that she possesses something less than a firm directorial vision of her subject. By Nowhere Boyís conclusion, it has wrung all the forced pathos it could from John Lennonís troubled childhood. It ends with a tone of reconciliation, at least, that seems to come from a genuine place. It wouldnít be surprising if many people found the film to be somewhat touching, but since we go into this exercise with full awareness of Lennonís future, dramatic tension is nowhere to be found.
48
Jeremy Heilman
06.23.10