Newest Reviews:
New Movies -
Abraham Lincoln: Vampire Hunter
Old Movies -
Touki Bouki: The Journey of the Hyena
The Strange Affair of Uncle Harry
Archives -
Recap: 2000, 2001, 2002, 2003, 2004 , 2005, 2006, 2007 , 2008 , 2009 , 2010 , 2011 , 2012
Ip Man (Wilson Yip, 2008)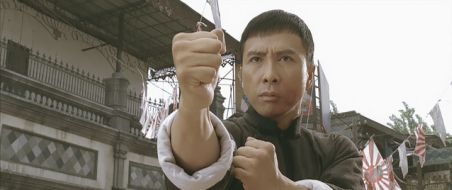 A small episode in the life of martial arts trainer Ip Man, famed for bringing the Wing Chun style of martial arts to prominence, is given a glossy, revisionist treatment in Wilson Yipís 2008 feature Ip Man. Set in the 1930s, immediately before and during the Japanese occupation of China, the film holds up Ip Manís calm under pressure as a rallying point for the Chinese spirit. Though the plot here clearly takes liberties with facts and sentimentalizes a complex period in Chinese history, these decisions seem to have been made for entertainmentís sake. All things considered, it is probably the best of director Yip and star Chenís collaborations to date. First and foremost, Ip Man is an excuse for Yen to demonstrate his newfound mastery of the Wing Chun style. On that front, the film succeeds brilliantly.
Ip Man provides Donnie Yen with might be his best role yet. Because heís only been tasked with playing a stoic martial-arts master, heís able to give a performance that privileges his karate chops over his acting chops. Since he has been asked to portray one-dimensional character, though, one would hope that the supporting cast would be more colorful to make up for the deficit. Alas, they are a collection of familiar stereotypes who do little to enliven the film. The fate of each character that we meet, whether friend or foe, is obvious the moment they set foot on screen, neutering the drama considerably. From a plot perspective, it becomes apparent that appealing to the lowest common denominator was a prime goal, which is not to say that the film is not appealing or entertaining. It simply sacrifices depth and invention for generic standbys.
Indeed, because it focuses its energies on delivering action film staples, Ip Man will likely leave martial arts fans satisfied and clamoring for its sequel. Yenís screen presence and incredible skills (which seem to rely very little upon movie magic) are the main attraction and donít disappoint. Even though every bout in the film is one-sided (thereís never any doubt that Ip Man will triumph), the sheer athleticism that Yen brings to his role is enough to downplay such concerns. So, while Ip Man might be propaganda (its anti-Japanese sentiments are the engine that powers the plot, and thereís no attempt at presenting any sympathetic opposing perspective), and might be a little simplistic, it still manages to entertain in spite of itself.
50
Jeremy Heilman
06.28.10