Newest Reviews:
New Movies -
Abraham Lincoln: Vampire Hunter
Old Movies -
Touki Bouki: The Journey of the Hyena
The Strange Affair of Uncle Harry
Archives -
Recap: 2000, 2001, 2002, 2003, 2004 , 2005, 2006, 2007 , 2008 , 2009 , 2010 , 2011 , 2012
Heavenís Heart (Simon Staho, 2008)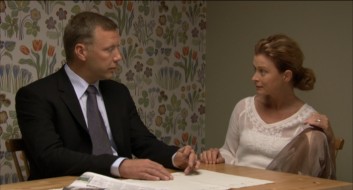 A stripped down, four character chamber drama that ventures into familiar territory with a decidedly cool head, Simon Stahoís Heavenís Heart details a marital breakup with nuance and insight. Focusing entirely on two middle-aged, married couples as they confront adulterous impulses, the film begins with an extended dinner party sequence that firmly sets both the tone and the plot. Very quickly, the austere, minimalist world of Heavenís Heart becomes a battleground over the meaning of marriage.


Initially the film recalls Scenes From a Marriage, as it dissects its charactersí slow decline as they move from the point where they seem made for each other to the point where you marvel that theyíve managed to stay together for years. Here, though, existential concerns are so downplayed that comparisons to Bergman arenít especially apt. More accurately, Heavenís Heart feels like Liv Ullmanís Faithless. No particularly weighty themes are present to distract from the topic at hand. Instead Staho opts to recount the dissolution of the marriage in exacting detail, focusing on minute psychological shifts and moral betrayals.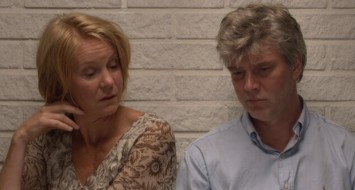 Stahoís fine direction is essential to making Heavenís Heart work. With his symmetrical, geometrically astute compositions, he drives home the emotional confinement that defines all of his characters. The suffocating, tasteful dťcor recalls Woody Allenís Interiors without Maureen Stapleton to deflate the pomposity. Most scenes are extended dialogues between two of the characters. Usually Staho either situates his two actors equally within the frame or gives them the same placement in a shot/countershot sequence. The rare occasions on which Staho moves his camera become quite powerful as a result.


This visual symmetry extends to the plot structure itself. The opening scene is repeated at the ending. Even the filmís emotional tenor is even bifurcated straight down the middle, with the first half featuring repression and the second half the drama that emerges once all cards are on the table. Whatís refreshing is how Staho refuses to turn any of his fully formulated characters into a villain. Even Susanna, who comes the closest to plotting any sort of vindictive act, receives ample opportunity to make her case and show her humanity. Chamber dramas are one of the most difficult genres to pull off in cinema, because one slight miscalculation sends the whole thing crashing down, like a house of cards. Heavenís Heart overcomes any skepticism that might emerge because this material is familiar or the style self-conscious. What initially seems too blunt and too neatly constructed develops considerable texture as this particularly concise film unspools.

61


Jeremy Heilman




08.06.08