Newest Reviews:
New Movies -
Abraham Lincoln: Vampire Hunter
Old Movies -
Touki Bouki: The Journey of the Hyena
The Strange Affair of Uncle Harry
Archives -
Recap: 2000, 2001, 2002, 2003, 2004 , 2005, 2006, 2007 , 2008 , 2009 , 2010 , 2011 , 2012
Che (Steven Soderbergh, 2008)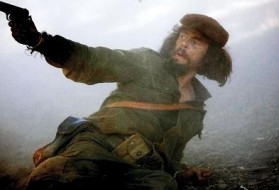 Nearly five hours in length and anchored by a lead performance from Benicio Del Toro, Steven Soderbergh's Che looks from the outside like an exciting epic about a charismatic revolutionary. In reality, it's a demanding work of cinematic structuralism that eschews most of the conventions of both the war film and the biopic. In paring down his take on his controversial subject, and in avoiding most of the simplistic political jingoism that would seem inherent in such a project, Soderbergh probably cuts too close to the bone. His film essentially presents only two extended, verite-style recreations of Guevara's Cuban and Bolivian insurgencies. What's left is an exercise in formal rigor that's in the service of not much else. While the sheer idiosyncrasy of Che makes it something of a must-see work, it's likely that Soderbergh's approach will alienate the vast majority of viewers.
Over two the halves of Che, each shot in a different aspect ratio with a distinct formal strategy, Soderbergh perversely minimizes our ability to sympathize with, or even identify, most of his cast (Matt Damon, however, is all too recognizable in his cameo). This simultaneously discourages flag-waving and encourages audience apathy. The film becomes a scrupulous, but close to pointless, study in guerilla warfare. The battles from the first film are distractingly interrupted with context-setting voiceovers from an audio interview and flashes forward to a U.N. session during which Che argues for Cuba's newfound "freedom". In an audience-punishing move, the first segment ends, just as Che is about to storm into Havana, stymieing any sense of victory. Then two hours of slow-burning defeat follow, as the pompous Che turns up in Bolivia ready to attempt an impossible repeat performance of his former glory.
The HD footage that Soderbergh shot in the Bolivian jungles is gorgeous, and the perversity of so intricately detailing an attempted revolution's downward spiral is obvious, making the second half considerably more intriguing than the first. Still, it's tough to imagine the movie appealing to anyone beyond the most ardent of art film aficionados. The minimalist, anti-dramatic approach of Che leaves so much unanswered, making a perspective difficult to ascertain. Particularly frustrating for many will be the fact that between the two halves of the movies, Soderbergh elides the six-year period where Guevara's takeover of Cuba soured. Even ignoring such omissions, though, the film significantly fails on its own terms in its final moments. As Guevara is dying, the camera suddenly switches to a first-person perspective. A flashback, with Soderbergh's trademark pale blue and orange color scheme follows. In a film as controlled and unsentimental until that point, this sudden effect of identification is startling and hugely damaging to the overall integrity of the piece. Nonetheless, Che is a movie that is worth debating and revisiting. Its atypical approach ensures it a place in cinematic history as a curio, at least.
50
07-17-08
Jeremy Heilman