Newest Reviews:
New Movies -
Abraham Lincoln: Vampire Hunter
Old Movies -
Touki Bouki: The Journey of the Hyena
The Strange Affair of Uncle Harry
Archives -
Recap: 2000, 2001, 2002, 2003, 2004 , 2005, 2006, 2007 , 2008 , 2009 , 2010 , 2011 , 2012
Blind Mountain (Li Yang, 2007)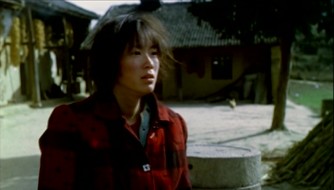 Blind Mountain the second film from fledgling Chinese filmmaker Li Yang, demonstrates many of the same qualities that made his first, Blind Shaft, one of the most promising directorial debuts of recent years. Like its predecessor, Blind Mountain is a realistic, documentary-style thriller that effectively dramatizes some of the horrors of living in Chinaís politically unsettled, hopelessly corrupt society. Set in 1991, the movie attacks the countryís tendencies toward both collectivism and capitalism by chronicling the sordid saga of a young woman who is drugged, abandoned, and sold into a life as the wife of a rural farmer who lives in a town where such behavior is the accepted norm. Using an intimate camera style, economic editing, and a clear focus on financial transactions, Liís approach decidedly begs comparison to that used by the Dardenne brothers. He shares both their skill in maximizing the feeling of realism, even while immersing the audience in the tension of a given moment, and their ability to build an overall moral case through a slow, steady accumulation of incident.
The black humor that defined Blind Shaft is largely absent this time around, but to Blind Mountainís credit it never loses its jaundiced view toward Chinaís shortcomings in the way that the former film did. Blind Mountain is bitter fear mongering that sometimes leaves reason at the door in its attempt to achieve effect. The one-note characterizations of the peasants, for example, seem like a willful distortion of reality, even if they do allow the film to operate more thoroughly as a horror story. Their intentions are as blatantly nefarious as the scenery that surrounds them is beautiful. The script wastes no time before they reveal their true colors to the hapless heroine. The effect of such a one-sided approach, though, is a film that sacrifices some political effectiveness for sheer emotional impact. In its alarmist, xenophobic snobbishness, itís only a stoneís throw away from questionable Western films like Not Without My Daughter or Deliverance.
Thatís not to suggest that Blind Mountain is anything less than absorbing as a viewing experience. Li investigates this admittedly melodramatic scenario in a manner that reduces its overtly political message, opting instead to focus on the specifics of the character heís chosen to follow. As a chase film, itís more effective than most, with the escape efforts of the young captive constantly stymied by the villagers, who organize their efforts against her with startling efficiency. Ultimately, Blind Mountainís worth lies in the viewerís willingness to set aside expectations of importance. Li Yang here reveals himself to be a filmmaker who might be less aggressively cinematic and less politically profound than his countryman Jia Zhang-ke, but also one who is infinitely more approachable.
60
Jeremy Heilman
02.03.08