Newest Reviews:
New Movies -
Abraham Lincoln: Vampire Hunter
Old Movies -
Touki Bouki: The Journey of the Hyena
The Strange Affair of Uncle Harry
Archives -
Recap: 2000, 2001, 2002, 2003, 2004 , 2005, 2006, 2007 , 2008 , 2009 , 2010 , 2011 , 2012
World Trade Center (Oliver Stone, 2006)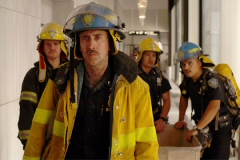 Perhaps the least likely candidate among American auteurs to make this particular 9/11 movie, Oliver Stone delivers a satisfying portrait of Americans' ability to weather the storm with World Trade Center. Telling the true story of two NYPD officers who found themselves trapped under the collapsed wreckage of the Twin Towers, the film is affecting in surprisingly subtle ways. Stone's filmmaking here is the least ostentatious that he's ever done, but it's rather unimpeachable as a result. In his sure hands, the opening montage of the Manhattan skyline is a brief, quietly glorious city symphony. The space under the rubble is just as well-defined. Stone grounds the audience in the claustrophobic ruins with his protagonists, turning its black expanses into an almost literal hell that occasionally erupts into flames. The sequences set underground stretch on for a virtual eternity, making the viewer long for the eventual rescue of the officers, or at least the next scene set above ground. The film's sharp editing links the rescue efforts, the concerned families, and the trapped men, simultaneously making the flashbacks and dreams that provide their respite the audience's own relief from imprisonment.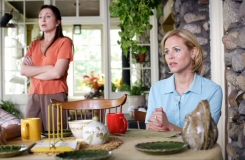 Termed a political filmmaker from the get-go Stone seems to be working here to actively suppress his personal politics. This magnanimous gesture on the director's part helps to sell the film's attempt to recapture the sense of community that defined both the rescue effort and the day of the event. Every aspect of Stone's film reeks of conviction, yet there's nothing sanctimonious about it. In his choices to narrow the focus of the story he's telling, he's elided any trace of controversy but has also emphasized the humanity of those that he focuses on. His cast downplays personality to maximize empathy, collectively creating an honorable, almost classical portrait of American resolve. Every once in a while, voices on the periphery threaten to disturb this unified front. Stone offers glimpses of people calling out for vengeance or seeking refuge in religion, but they are almost alien presences in the context that he's created. The techniques employed might be somewhat questionable, but the end result is a film that, while slightly dull once the rescue effort begins, does effectively spin its events so that the audience can achieve a cathartic release. Given that Americans are still very much grappling with the aftermath of those attacks, Stone's efforts seem less manipulative than honorable.
64
Jeremy Heilman
8.16.06