Newest Reviews:
New Movies -
Abraham Lincoln: Vampire Hunter
Old Movies -
Touki Bouki: The Journey of the Hyena
The Strange Affair of Uncle Harry
Archives -
Recap: 2000, 2001, 2002, 2003, 2004 , 2005, 2006, 2007 , 2008 , 2009 , 2010 , 2011 , 2012
Taxidermia (György Pálfi, 2006)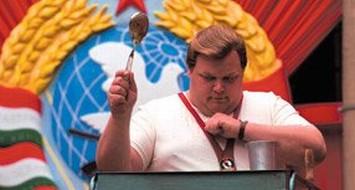 Following his captivating, yet somewhat inscrutable Hukkle, Hungarian director György Pálfi delivers something of a mad masterpiece with his second film Taxidermia. A warped allegory of 20th century Hungarian history, the end result of this film is perhaps best described as Hou Hsiao Hsien's Three Times as directed by stop-motion animator Jan Svankmajer. With a triad of cockeyed love stories, the Pálfi exaggerates and mocks the changes in attitudes that occurred as Hungarians moved out of Communism. Though the film uses extremist visuals that are likely to alienate the average viewer on some level, the end result is one of those rare must-see movies that many simply won't be able to finish watching.
The most remarkable thing about Taxidermia is that it manages to feel so certain of itself throughout. Despite a non-stop phantasmagorical array of horror and perversity, nothing in the movie seems gratuitous. Pálfi's vision remains so comprehensive and convincing that it justifies everything that he puts his audience through. He presents graphic vomiting, explicit masturbation, animal slaughter, human dissection with the same matter-of-fact, almost noncommittal detachment with which he seems to regard his characters. The end result is expertly, even excessively, controlled, but downright fascinating. His absurdist fable examines the shame inherent in a violently repressed society, the sad spectacle of Communist celebration and the self-destructive navel-gazing of modern times. To dismiss his film as merely a freak show is to reduce it, even if it certainly qualifies as one on a surface level.
Taxidermia, if not necessarily the best film of the year, is quite likely to be the most distinctive. It's a thoroughly profane film that boldly risks alienating its audience at every turn, but there were surprisingly few walkouts at the screening I attended. Pálfi's surreal string of set pieces is too unique to walk away from. Taking the audience through three demented generations of depravity, he centers on a theme that critiques the commoditization of the flesh. It's clear by the end of Taxidermia that Pálfi's attitudes toward his characters exists not because he is inhumane, but because they, in their responses to their own repression, are twisted into beings that are no longer recognizably human. With a great deal of wit (the pecked pecker was a highlight), but no drollness, he crafts a film that truly stands alone. Although Pálfi expends much energy in Taxidermia skewering the concept of Hungarian national pride, his major accomplishment here is undoubtedly cause for considerable pride from his homeland.
81
01.08.08
Jeremy Heilman