Newest Reviews:
New Movies -
Abraham Lincoln: Vampire Hunter
Old Movies -
Touki Bouki: The Journey of the Hyena
The Strange Affair of Uncle Harry
Archives -
Recap: 2000, 2001, 2002, 2003, 2004 , 2005, 2006, 2007 , 2008 , 2009 , 2010 , 2011 , 2012
I Donít Want to Sleep Alone (Tsai Ming-Liang, 2006)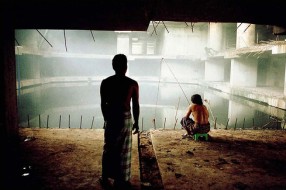 Although director Tsai Ming-Liangís nationality is generally considered to be Taiwanese, Malaysia is, in fact, his home country. With I Donít Want to Sleep Alone, his latest work, the master filmmaker for the first time shifts the locale of one of his films to Malaysia, though the difference has surprisingly little effect on his approach. Although the tiniest bit warmer than the usual Tsai outing, Sleep is still largely an examination of modern alienation (specifically here the alienation of being in a foreign country), shot through with the directorís typically rigorous style. In what may be a slight case of diminishing returns, Sleep does less to extend the directorís body of work than to reinforce it. With fewer humorous moments than usual to lighten things up, the filmís slow pacing takes more of a toll than in most of his challenging works.
The plot, slim as it is, has two separate strands. The first follows a homeless drifter (Tsai standby Lee Kang-sheng) who is beaten by hustlers and falls under the care of another illegal squatter. The second observes a comatose man (also played by Lee) who is cared for by a waitress. These two situations are contrasted with one another, the former a sheer act of altruism, the latter essentially performed under duress. As the film continues, the underlying sense of sadness in both plots builds, with the first culminating in a state of unrequited homosexual love and the latter resulting in a state of requited, but unwanted, passions. Tsai uses his trademark water metaphors and other visual cues such as the presence of gasmasks to extend these personal stories into a more wide-ranging portrait of a dissatisfied society. His insistence on a morose tone is appropriate, given the desperate conditions of his characters, but it is so unremitting here that it sometimes feels forced upon what is at least one half of a love story.
Tsaiís style is essentially written in stone at this point, and I Donít Want to Sleep Alone hardly challenges it. With expressive use of the abandoned building that serves as the filmís primary setting, he turns almost every shot into a reminder of his charactersí interior loneliness. From the spiraling, dark staircases that resemble Escher drawings, to the giant pool of water that lies in the center of the complex, Tsai here is as visually adept here as ever, right up to the film's peaceful final shot, which shows the reconciled characters drifting into slumber.
53
Jeremy Heilman
01.08.08