Newest Reviews:
New Movies -
Abraham Lincoln: Vampire Hunter
Old Movies -
Touki Bouki: The Journey of the Hyena
The Strange Affair of Uncle Harry
Archives -
Recap: 2000, 2001, 2002, 2003, 2004 , 2005, 2006, 2007 , 2008 , 2009 , 2010 , 2011 , 2012
Everything Will Be Ok (Don Hertzfeldt, 2006)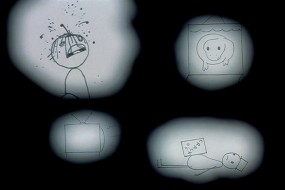 Everything Will Be Ok, the latest animated short from inspired cartoonist Don Hertzfeldt, sees the director delivering his most fully-realized narrative to date, without any betrayal of the low-fi aesthetic heís nurtured all along. Hertzfeldt has been working steadily throughout his short career as an animator to push the boundaries of what kind of storytelling can be accomplished within his crude, juvenile style. His 2000 short, Rejected, served as his breakthrough work, and saw the director experimenting with avant-garde techniques. That film, like a hand-drawn Two Lane Blacktop, culminated with a cinematic implosion that destroyed both the world of his cartoons and the animatorís own supposed mental well-being. It used its simplistically, but graphically, rendered violence to assault and bemuse the audience, resulting in a pleasingly inappropriate, over-the-top tone. Comparatively, the tenor of Everything Will Be Ok is both more somber and more controlled. It takes its time establishing itself before flying off its rails.
Telling the bittersweet tale of a normal guy named Bill who undergoes a breakdown of sorts, the short builds in power as its accumulation of everyday details slowly shifts into a bona fide nightmare, before finally presenting itself as an existential truth. The storytelling is anchored by excited, doggedly hopeful narration that pushes the tale forward as split screen techniques are used to deliver small blots of visual information. Occasionally, live-action stills are shuttled into the mix, and eventually the dominance of the frame itself begins to crumble as Billís life is threatened. Hertzfeldt begins with such a limited visual palette that anything that he adds to it represents a major epiphany for the viewer. The effect is completely disarming, creating an openness to the storyís pretentions that might not have been otherwise achieved.
Itís a testament, both to the singularity of Hertzfeldtís scribbles and his unique brand of humor, that Everything Will Be Ok is immediately recognizable as his work. Despite being primal almost to the point of artlessness, his scrawled characters have a powerful, almost totemic quality about them. Perhaps itís because any of us is capable of drawing figures of this quality, but thereís an undeniable appeal in his figures. Itís easy to see ourselves as his hapless heroes, facing a life that makes no guarantees. Hertzfeldt has a gift for making his films seem effortless, but itís a ruse. His elaborate sound design, skillfully deployed comic effects, and sophisticated visual minimalism suggest the work of a master of the form.
77
Jeremy Heilman
01.21.08