Newest Reviews:
New Movies -
Abraham Lincoln: Vampire Hunter
Old Movies -
Touki Bouki: The Journey of the Hyena
The Strange Affair of Uncle Harry
Archives -
Recap: 2000, 2001, 2002, 2003, 2004 , 2005, 2006, 2007 , 2008 , 2009 , 2010 , 2011 , 2012
Beyond the Years (Im Kwon-taek, 2006)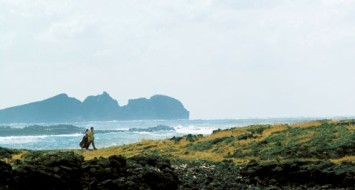 Beyond the Years is veteran South Korean director Im Kwon-taekís 100th film. Surely such a mammoth filmography must be chock full of variety, but based on my limited experience of his work, it seems that his specialty lies in telling the stories of Korean folk artists. More specifically, he seems focused on pansori singing, which is a genre of Korean folk music that combines simple drum beats and throat singing. To people who arenít Korean, itís an acquired taste, to be sure. Fortunately, Imís devout attention to his performers has a way of making the style seem like high art, even to outsiders. Having seen Imís previous films Sopyonje and Chunhyang, each of which prominently featured pansori singing, I was prepared both for Beyond the Yearsí meticulous attention to its pansori performances and its classy, yet somewhat dull, presentation.
A determinedly old-fashioned melodrama, Beyond the Years explores the fragile bonds that exist between pansori singer and drummer, seeing them as exceptionally noble yet fraught with ceaseless difficulty. Im presents the lives of his singers as a chronicle of adversity. Poverty, blindness and endless sacrifice are the price that these people pay for their art. With no small degree of sincerity, the director uses a flashback structure to detail the lives of a brother and sister who once performed together, yet have drifted apart. Well before the closing image of two cranes flying together in the sky flits across the screen, itís patently obvious that Im views this bond as a noble one, and has nothing but distaste for the country, which has little place for art or beauty, given its constant upheaval.
Shot in autumnal hues to reflect the cultural glory of a bygone day, Beyond the Years suggests, rather simplemindedly, that purity of heart and endless practice are the keys to a great performance. Despite covering decades, the film scarcely shifts its attitudes toward its characters, suggesting, as the title does, that pansori is an art form that can weather the ravages of time. As a viewer, I felt that the unfettered devotion was questionable, but perhaps that is a problem of perception. Beyond the Years is one of the rare foreign films that makes me feel like I am too divorced from the culture in question to appreciate any subtleties on display. Sincerity is perhaps harder to translate than cynicism, and thereís no question that Beyond the Years is sincere.
42
Jeremy Heilman
09.04.07