Newest Reviews:
New Movies -
Abraham Lincoln: Vampire Hunter
Old Movies -
Touki Bouki: The Journey of the Hyena
The Strange Affair of Uncle Harry
Archives -
Recap: 2000, 2001, 2002, 2003, 2004 , 2005, 2006, 2007 , 2008 , 2009 , 2010 , 2011 , 2012
Factotum (Bent Hamer, 2005)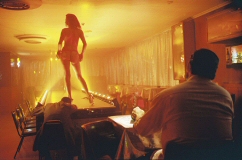 It's nearly impossible to examine Bent Hamer's Factotum without comparing it to Barbet Schroeder's Barfly. Schroeder's film, whatever its flaws, seemed to so definitively capture the come-what-may rhythms of Bukowski's transient, intoxicated existence that Factotum can't help but feel like a repeat. Technically an adaptation of one of Bukowski's short novels, Hamer's movie casts Matt Dillon as Chinawski, a literary alter-ego of Bukowski, but would easily pass as a biopic were the name only changed. Observing as Chinawski engages in a series of menial, manual labor jobs (e.g., a pickle factory worker, a sorter of identical auto parts) and subsequent stints as an unemployed, unpublished writer / drunkard, the film presents working life as an affront to one's dreams, or at least as a cramp on Bukowski's self-imposed concepts of integrity and style. Despite Hamer's deadpan, frequently wordless staging of his finely shot scenes, the end result is a disappointingly literal portrayal of a twentieth-century poet's life. In its ability to remain a bit whimsical despite the depressing veneer, Hamer seems to be aiming for a brand of Kaurismaki-lite, which seems odd, given the film's distinctly American milieu.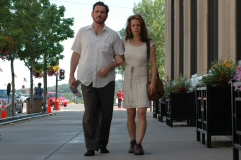 Matt Dillon is not exactly plumbing the depths of his character here, but his excellent comic timing comes in handy during his line delivery, and helps sell Factotum's accumulated quirks as comedy. Dillon has almost none of the down and out grittiness that Mickey Rouke brought to Barfly, but the tone that Hamer is after demands that he be more affable screen presence. As such, most of Chinawski's tart observations about the Sisyphean ordeals that his work presents him with are delivered in voiceover, somewhat at a remove from the on-screen action. The result is a film that settles for disappointingly shallow characterization. When one of Chinawski's long string of bosses tells him that there's "absolutely no smoking" at a job, it's all-too inevitable that he's going to light up when his superior leaves the frame. When he briefly returns home to bunk with his estranged parents, it's not surprising that the resulting scene is one that flaunts the man's bawdy unconventionality instead of illuminates his background. The film's greatest failing is that despite Bukowski's distinctive voice, its tone is rather unremarkable and completely the same as countless indie movies that have come before. It's a film that in its scope and point of view feels utterly redundant, and I say that having not even seen Marco Ferreri's Bukowski biopic, Tales of Ordinary Madness.

38

Jeremy Heilman

8.20.06