Newest Reviews:
New Movies -
Abraham Lincoln: Vampire Hunter
Old Movies -
Touki Bouki: The Journey of the Hyena
The Strange Affair of Uncle Harry
Archives -
Recap: 2000, 2001, 2002, 2003, 2004 , 2005, 2006, 2007 , 2008 , 2009 , 2010 , 2011 , 2012
Howl's Moving Castle (Hayao Miyazaki, 2004)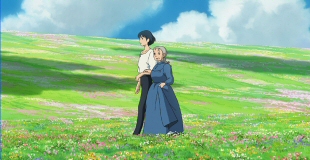 Master animator Hayao Miyazaki moves in a decidedly grown-up direction with Howl's Moving Castle, his latest work. Noteworthy as the first of his films that is noticeably the work of an old man, yet still in full possession of his earlier work's charms, it is defined by its comfort in routine as much as its adventure elements. Telling the tale of Sophie, a young woman who ages after being cursed by a jealous witch, the movie largely resists the urge to surrender to sheer spectacle, instead finding remarkable intimacy among its relatively small cast. Though the scale is at least as large here as it was in any of Miyazaki's previous works and the invention never ceases to amaze, the film is as concerned with housework as it is with epic battles. Like many of Miyazaki's previous films, the focus on work seems to comment on his own laborious process of creating hand-drawn animation. The director, a notorious workaholic and perfectionist himself, clearly values the expertise and perspiration that goes into a trade like hat making or cooking and forefronts these activities. As a result, Howl's Moving Castle is a decidedly domestic film, but not in the same reductive way that the recent slew of Pixar animations. Here, we're not supposed to be amused by the mere fact that the fanciful characters have domestic lives so much as we're expected to take genuine comfort in the quiet calm of home life and the routine familiarity of tasks like marketing or bathing. Almost incredibly, in lieu of a constant barrage of more stereotypical adventure elements, Miyazaki films can demonstrate to us how the completion of these tasks can be an adventure in itself.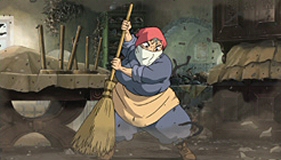 The first two acts of Howl's Moving Castle, dominated by the aged Sophie, creak and wheeze along with more observational humor than outright action. The biggest action scene in the first ninety minutes of the film is an exhausting race up the stairs between a fat lady and an old lady. Though the protagonist isn't characterized in an especially deep manner, we quickly come to understand that she's old at heart. She finds she's not as miserable being old as she would have expected. She feels wiser and less surprised by life as an old woman, which probably helps in a film that's set in one of Miyazaki's typically amalgamated East-meets-West provincial fantasy landscapes. He gives us an exceptionally idiosyncratic vision of this fantasy world. Its small pleasures bide time quite well before the film segues into a more action-packed finale. By the end of Howl's Moving Castle, it's dabbled in romance (recalling animated features like Whisper of the Heart and Disney's Beauty and the Beast), anti-war sentiment, and feminine empowerment, though it has to be said that the breadth of the film's content keeps it from feeling as thematically substantial of several of the director's past films.
Thankfully, Howl's Moving Castle is the visual equal of the wonders that Miyazaki has previously delivered. His startling attention to detail is as present here as ever. This may be the most impressively scaled of his animated features (it favors the long shot, which helps greatly), but it still possess the hand-drawn look that Studio Ghibli is famous for. The titular castle is an elaborate, pulsating contraption of pure imagination. The character designs are consistently charming, with Calucifer, an evil, but adorable, flame spirit taking top honors. For Miyazaki fans, the film has the odd effect of coddling you with the feel of familiarity inherent in its tone while it dazzles you with sights you've never seen before. Several of the director's touchstones resurface here, including a delightful flying sequence or two and a strong emphasis on the simple pleasures of the natural world. To quibble that Howl's Moving Castle is not quite as good as Spirited Away, My Neighbor Totoro, Princess Mononoke or Laputa is nonsensical. It's still a treasure. Its wonders come so constantly that one can almost start to take them for granted, and because of Miyazaki's amazing ability to do things as no other filmmaker would, when it's come to the end of its epic tale, you almost feel wiser yourself.
78
04-03-05
Jeremy Heilman