Newest Reviews:
New Movies -
Abraham Lincoln: Vampire Hunter
Old Movies -
Touki Bouki: The Journey of the Hyena
The Strange Affair of Uncle Harry
Archives -
Recap: 2000, 2001, 2002, 2003, 2004 , 2005, 2006, 2007 , 2008 , 2009 , 2010 , 2011 , 2012
Collateral (Michael Mann, 2004)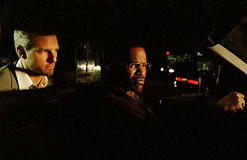 Much has been made of Michael Mannís depiction of Los Angeles in Collateral, and with good reason. This is one of those rare films where youíre never for a minute able to forget where the action is taking place. Thereís constant tension in nearly every shot of the film. Even though it takes place during the night, thereís nothing sleepy about the city, and thatís reflected in the way that the artificial lights that dot the streets refuse to go out and the smoggy brown skies refuse to darken. Through Mannís eyes, L.A. becomes a series of empty freeways, where there donít seem to be enough cars in the world to fill the void. Empty walkways and corridors seem to have been constructed in a city where no one does any walking. The streets of this city may be deserted, but theyíre undeniably alive. As the long night slowly slides from the dreamy to the nightmarish, the film follows cabbie Max (Jamie Foxx) after he picks up Vincent (Tom Cruise), a hitman who intends to use Max as his driver, as he goes about assassinating an oddly multi-cultural series of marks. Itís a weak plot, but itís one that allows Mann to demonstrate whatís clearly one of the yearís most impressive and sustained directorial tour-de-forces.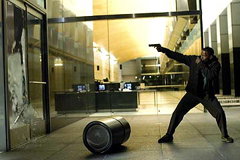 Like the protagonists in the classic Hollywood films of Anthony Mann, Hawks or Ford, the leads of Collateral express themselves through their action as much as their locution. Thereís a pronounced difference in the way that the two lead actors move during their action scenes, with Foxx always stumbling clumsily through situations, while Cruise achieves an absurd but beautiful Woo-like grace. Their differences in philosophy are extreme enough that we can understand how they each have an outlook thatís harmful to them. Mann's use of style is not vapid, because it's constantly aware of the two forces at play here, even as it grounds both of them in the soupy haze of the Los Angeles skyline. When Vincent mentions that the city makes him uneasy, itís easy to see what he means. Throughout, atmosphere remains inescapable and Mannís direction is to thank. Itís excellent technical work that should not be overlooked at the yearís end. A Korean club shootout about two-third of the way through the film is a hell of an action movie set piece, but it's also completely in touch with the perspectives of the main characters in a way that you just don't see in lesser action movies.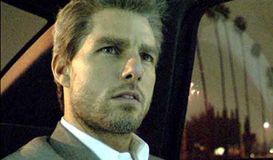 Mannís style glorifies Vincent only insofar as he glorifies himself with his quasi-existential view of his place in the world. Max is only entertaining his blather because he's shaken, and because Cruise's persona is so persuasive in its devilsh way. We're supposed to be skeptical of it, even as we see how someone could delude themselves into thinking they're above petty concerns like morality. Itís no surprise when you feel that Maxís hardworking, professional demeanor wins the directorís truest sympathies. As the two demonstrate their masculine confidence in an attempt to dominate the other, it becomes apparent that as much as Collateral is about the surface level tensions between the two characters, itís also about the way that the men have their two completely different viewpoints, yet inhabit the same, daunting physical space. All of the expended machismo in the world doesnít keep either of them from being dwarfed by the megalopolis that surrounds them.
77
Jeremy Heilman
08-10-04