Newest Reviews:
New Movies -
Abraham Lincoln: Vampire Hunter
Old Movies -
Touki Bouki: The Journey of the Hyena
The Strange Affair of Uncle Harry
Archives -
Recap: 2000, 2001, 2002, 2003, 2004 , 2005, 2006, 2007 , 2008 , 2009 , 2010 , 2011 , 2012
The Missing (Lee Kang-sheng, 2003)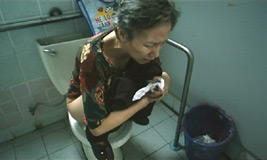 The Missing, the directorial debut from Lee Kang-sheng, an actor known almost exclusively for his involvement in the films of Taiwanese director Tsai Ming-liang, proves that sometimes the apple doesnít fall very far from the tree. Since it has a style similar to Tsaiís movies, and most of the same thematic concerns, if one mistook The Missing for the real deal, it wouldnít be surprising. With an exceptionally thin plot that tells two parallel stories of emotional distance, the movie is clearly more about mood and symbolism than plot event. The first shot looks out from the inside of a fish tank, giving the visual impression that the actors shown are prisoners within its glass walls. When the fish turn up dead a few minutes later, the victims of a senile man who puts newspaper bearing SARS-related headlines in their tank, the movieís attitude toward these characters, and the society that imprisons them, is unmistakably stated. Itís this mindset in which a shot of a woman straddling a toilet seat, desperately trying to avoid contact with it, suggests her deeper alienation from other humans. As in Tsaiís movies, The Missing concentrates on outsiders to make a broader statement about society at large.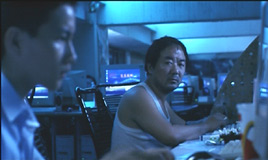 Despite the thematic familiarity of The Missing, the movie lacks formal rigor when compared to Tsaiís works. The sound design is uninspired in comparison, the visual metaphors feel like secondhand imitations of superior ones, and even though great shots, such as a videogame reflected in the close-up of a boyís pupil, occasionally surface, the effect is often stunted due to an overlong duration or a repetition of the image. Invariably, the shallow content combined with Leeís less than stellar filmmaking results in flagging interest. There are some sequence shots, which means thereís a more mobile camera than in any of Tsaiís movies, but the biggest difference between the two directorsí work is that the sense of humor is toned down considerably in The Missing. Where it does feel like one of Tsaiís movies, though, is in its consummate compassion toward its characters.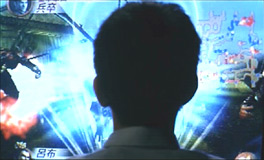 One characterís panicked search leads her, out of desperation, to her dead husbandís tomb. She appeals to her dead husbandís ghost to help her find her missing grandson, thereby revealing her selfish reasons for wanting to find him. ďIf heís gone, they wonít want me any more,Ē she cries, referring to her children, who entrusted the boy to her. She worries not about the childís safety, but about her sonís reaction, yet she isnít being scorned for it. The movie is more concerned with understanding than condemnation, and as a result, through this frantic appeal, she begins to resolve her emotional issues. When a boy scarcely notices that his grandfather has disappeared, the film is patient enough to wait for him to develop a sense of responsibility and guilt, instead of taking an immediately judgmental stance. Such compassion makes sense in a movie that is so steadfastly aligned against loneliness and disaffection.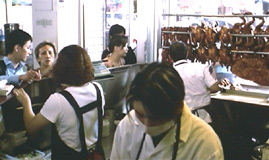 The stories Lee tells intersect twice, once briefly to no real effect, and again later for the cathartic but ambiguous finale. In a surprising shift from whatís come before, we see connection made between two characters, finally, even though it manifests itself through hysteria. Like Tsaiís films, The Missing believes that we can learn as much from watching a characterís routine actions as from their moments of crisis. As such, there are numerous scenes in which characters perform mundane tasks. Even the plot, which is concerned with a boy lost in a park and a senile man who wanders off, is the commonplace stuff of life. The movie exists mostly to demonstrate the built-in ways that modern times allows us to cut ourselves from others. This thread exists in obvious metaphorical ramifications of the plot and in most small scenes, such as the one in which two men in an internet cafe chat to each other on the computer despite the fact that theyíre sitting next to each other. Tsaiís languidly paced ode to cinema Goodbye, Dragon Inn drove many to frustration with its determined uneventfulness. More happens in The Missing, purportedly a companion film (seemingly for marketing reasons as much as anything), but the results, while admirable, feel far less passionate than the mixture of nostalgia and decay that Tsai managed there. The Missing is a promising debut by any standards, but that doesnít mean it lives up to Tsaiís standards.
53
Jeremy Heilman
06-08-04