Newest Reviews:
New Movies -
Abraham Lincoln: Vampire Hunter
Old Movies -
Touki Bouki: The Journey of the Hyena
The Strange Affair of Uncle Harry
Archives -
Recap: 2000, 2001, 2002, 2003, 2004 , 2005, 2006, 2007 , 2008 , 2009 , 2010 , 2011 , 2012
PTU (Johnnie To, 2003)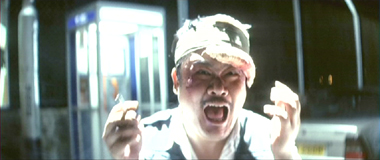 Hong Kong action auteur Johnnie To returns to the fray with PTU, a well-written police drama that takes place over the course of a few hours. Unlike most films that attempt to approximately approximate real-time, this is not a fast-paced thrill ride. Itís a sharp, observational (not to be confused with insightful), minimalist action movie, in which the spaces between the clashes are given more attention than the clashes themselves. The plot is familiar stuff. Thereís a sting operation gone wrong, gang warfare, a stolen gun, interdepartmental police conflict, and a revenge killing. The way To uses those commonplace genre tropes demonstrates his unconventional cinematic approach, though. Thanks to his directorial prowess, he manages to make a film that feels fresh, despite the fact that many of the elements itís built upon are stale. Every set piece unmistakably bears its makerís mark. A chase scene is punctuated by the moments where the pursuer and pursuant pause, with each other still in sight, to catch their breath. A fight scene between a cop and a criminal is a one-sided demonstration of police brutality until the victim suddenly stops breathing. Itís only then that it becomes exciting. Another group of policemen round a corner to find a car alarm blaring and a window smashed, with the cause of the mayhem nowhere to be found. Action in a modern Johnnie To movie always seems to be just out of reach.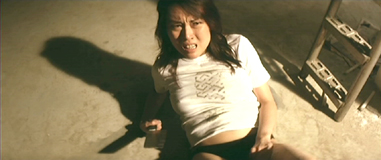 PTUís shifted emphases make for a unique style, no doubt, but itís one that is not without a slight drawback. For all of the protracting of time and teasing of the audienceís anticipation, one canít really argue that Toís direction results in a movie that is significantly more exciting or suspenseful than your average police flick. Aesthetically, the film is captivating, but there are a few scattered moments where the dead space that To is highlighting still feels like nothing more than dead space. The director combines empty streets, awkward body language, wide open spaces and lighting that casts the actors in sharp relief to create a slightly unnatural feel here, and in doing so asks action movie buffs to realign their movie watching priorities. Those who expect the film to outdo John Woo will be surprised to find that To is playing by his own rules. When itís at its peak, however, Toís approach unlocks wit and grace in a genre not commonly known for either. Inevitably, PTU ends with an elaborate shootout, but even when the director finds thereís no way around showing a character running and gunning, he opts to utilize slow-motion to drop the speed of the scene to a near-standstill.
62
Jeremy Heilman
05-27-04