Newest Reviews:
New Movies -
Abraham Lincoln: Vampire Hunter
Old Movies -
Touki Bouki: The Journey of the Hyena
The Strange Affair of Uncle Harry
Archives -
Recap: 2000, 2001, 2002, 2003, 2004 , 2005, 2006, 2007 , 2008 , 2009 , 2010 , 2011 , 2012
All Tomorrow's Parties (Yu Lik Wai, 2003)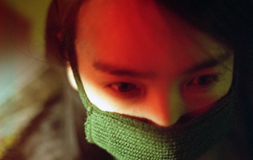 All Tomorrow's Parties, the second feature from director Yu Lik Wai (better known as Jia Zhang Ke's director of photography), is a dystopian vision of mainland China's possible near future. Shot against slightly altered modern backdrops, this sci-fi movie finds itself squarely in the Alphaville mode, though it lacks the humor of Godard's work. Considering the director's background as a cinematographer, it's not surprising that many of the movies prime attractions are visual ones. Though shot on High Definition DV, the imagery has a consistently attractive, muted look that turns any stray light that might enter the frame into a ravishing glow. Often, Yu takes full advantage of his digital medium by altering the images with simple computer graphic effects and showing more radically altered mini-montages. No less impressive is the sound design, which is seemingly standard, but upon closer examination reveals a developed awareness of off-screen space and spatial relations. Though a tad bit faster in pacing, the mood and style of the movie definitely recalls the work of Jia, albeit in a radically different setting.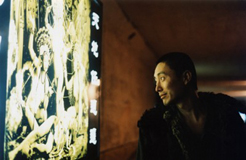 All of All Tomorrow's Parties' technical proficiency is in the service of a what-if scenario in which China's current globalization trends have failed miserably, prompting a reactionary movement that allowed a more extreme form of fascist rule to take over. The movie doesn't have much of a plot, though there are recurring characters throughout its vignettes. In one, a man pressures his girlfriend to turn to prostitution to procure some valuable gasoline. In another, we see the almost alien courtship rituals of this future, in which people gather at a dance, but need to wear surgical masks before getting close to one another (successfully recalling SARS panic). The movie effectively shows squalid the living conditions and loosened moral standards that exist after a societal collapse. Throughout, the strongest narrative thread follows a woman who befriends a Korean doctor who might allow her to leave the Chinese wasteland and travel to the utopian Port Perspective, and in their relationship exists the movie's only real glimmers of hope. Unfortunately, many of the script's concerns are politically simple. Above all else, it reminds us something we already knew: an authoritarian government has a dehumanizing effect on its people. It does more astutely observe the way that characters still call nations Ex-China and Ex-Korea in a world where those distinctions have ceased to exist, and there's something witty about the way the red neon sign for the optimistically named detention facility "Camp Prosperity" is replaced by a Samsung corporate logo or the almost random way with which the unseen evil sect that controls the people is usurped. These scattered moments of inspiration are the highlights in All Tomorrow's Parties, which often seems more like the concept of a movie than the actual finished product.
47
03-09-04
Jeremy Heilman