Newest Reviews:
New Movies -
Abraham Lincoln: Vampire Hunter
Old Movies -
Touki Bouki: The Journey of the Hyena
The Strange Affair of Uncle Harry
Archives -
Recap: 2000, 2001, 2002, 2003, 2004 , 2005, 2006, 2007 , 2008 , 2009 , 2010 , 2011 , 2012
Spider-Man (Sam Raimi) 2002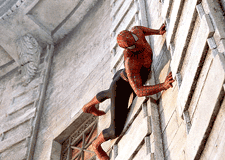 A movie so obviously bound for franchisedom that it seems to contain its own sequel in its first installment, Sam Raimiís adaptation of the comic book Spider-Man is otherwise disarming in the guileless presentation of its origin story. With a solid lead turn from Tobey Maguire as Peter Parker, who becomes the titular superhero, Spider-Man feels unusually grounded emotionally when compared to other comic book adaptations. Thereís a clearer sense of setting that there usually is in fantasy films, and in the second hour, New York itself seems as much a character as anyone. The movie shoots for, and usually achieves a sense of giddy exuberance, but it comes at the cost of suspense. The technical wizardry alternatively astounds and annoys as the movie progresses. If the effects shots that show Spider-Man swinging about the city donít exactly look fake, they certainly arenít entirely convincing. A series of effects shots that are doled out as Peter is learning about his new powers actively recall images from The Matrix, and they instantly detract viewers from the filmís premise. Whatís worse is that the slow-motion fight sequence in which Peter fights a bully slides almost into a parody of that filmís innovative effects. The Spider-Man comic had a smart-alecky tone, but the rest of the movie plays it so straight that these scenes come off all wrong.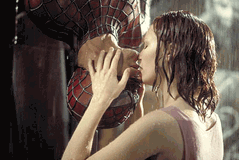 The obvious pubescent subtext that dominates the first half of the film is pretty clever (Iíll never look at Spideyís now-organic web shooters the same way again), but the second half of the movie jettisons subtext entirely, opting instead to present an ever-escalating, pyrotechnic game of cat and mouse between our hero and The Green Goblin (Willem Dafoe, whoís hyperactive here even by comic book standards). Luckily, the set pieces are staged well, and the love triangle that develops is reasonably diverting, mostly because of the castís too-rare willingness to wear their hearts on their sleeves. So many big-budget blockbusters turn into celebrations of their own excess that sneer at their audiences, but Raimi, who has had his biggest artistic successes (the moderately budgeted and excellent A Simple Plan excepted) when working on miniscule budgets imbues this $130 million film with much of the energy that made his Evil Dead movies so enjoyable. This shaggy dog story has got heart, and heart can make us overlook minor stuff like an overbearing score, painful dialogue, a slightly unsatisfying ending, and Macy Gray.
* * * 1/2
05-04-02
Jeremy Heilman