Newest Reviews:
New Movies -
Abraham Lincoln: Vampire Hunter
Old Movies -
Touki Bouki: The Journey of the Hyena
The Strange Affair of Uncle Harry
Archives -
Recap: 2000, 2001, 2002, 2003, 2004 , 2005, 2006, 2007 , 2008 , 2009 , 2010 , 2011 , 2012
Russian Ark (Aleksandr Sokurov) 2002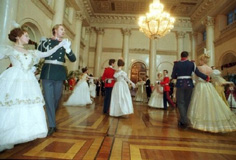 Surely one of the most technically impressive cinematic stunts ever attempted, I suppose one could say that Russian Ark, Aleksandr Sokurovís ambitious new film centers around a gimmick, but you realize itís one hell of a gimmick once you see it implemented. Filmed entirely in one shot, this digital experiment is insanely elaborate in its compositions and costuming. It makes even the complex multiple split screen techniques of Mike Figgisí Time Code look simplistic. What begins as an exploration of the halls of the Royal Hermitage Museum in St. Petersburg soon becomes a tour of modern Russiaís, and human, history. Instead of the series of relatively static tableaux that I expected, though, Sokoruv ducks, bobs, and weaves his way throughout the museum with as much aplomb as any director working without a one-shot quota. The scriptís surprising playfulness keeps things fresh as the movie buzzes along. History becomes a malleable and transient thing as with entry into each decked out room we enter into another era of time and history. When we encounter an elderly Catherine II after earlier seeing a younger version of her frolicking about in the same shot some minutes earlier, it comments mournfully on the rapidity with which we age.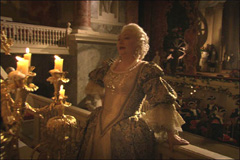 All of the sumptuous period detail that Sokurov piles on during Russian Ark is given the expected reverence of a film that's been made with the blessing of a state museum, but the film never becomes didactic or boring because of the larger theme that binds together all of the temporal and spatial places that we travel during the course of the shot. With his typically sparse philosophical aloofness, the director puts forth the intriguing idea that we honor history and save art so that we might fend off our own undeniable mortality. In scattered moments throughout the journey, this premise achieves real emotional poignancy. The gracefully floating camera conveys the mostly unseen narratorís point of view, but he occasionally interacts with a mysterious European man in black, who is a lot more vocal about his sense of loss. Through their relationship, which echoes the rapport between Russia and the rest of Europe, we come to understand the way that Russia became a country that became so utterly convinced of the power of its own pageantry. Other scenes, such as the indelible one where we see a blind woman caressing the works of a master sculptor so she might understand their greatness, are no less affecting. It becomes quite apparent that the bond between the transcendent nature of great art and the inevitability of human foible is an unbreakable and necessary link, and Sokurovís examination of the two is as thought provoking as itís nimbly presented. For those who find Sokurovís philosophies tiresome, Russian Ark is still a must-see. Even before it builds up to its insanely staged ballroom scene, in which 3000 actors appear in full regalia, itís waltzed itself into the art film pantheon.
* * * 1/2
Jeremy Heilman
09-18-02