Newest Reviews:
New Movies -
Abraham Lincoln: Vampire Hunter
Old Movies -
Touki Bouki: The Journey of the Hyena
The Strange Affair of Uncle Harry
Archives -
Recap: 2000, 2001, 2002, 2003, 2004 , 2005, 2006, 2007 , 2008 , 2009 , 2010 , 2011 , 2012
Martha… Martha (Sandrine Veysset) 2002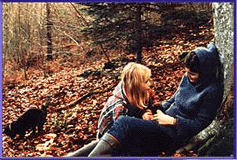 Martha… Martha, Sandrine Veysset's stone-faced working-class slice of something resembling life, opens with its titular protagonist (ably played by Valerie Donzelli) paying an exceptionally short visit to her parents, who treat her rather poorly. At first, since we have no background on the situation portrayed here, we can't understand what the emotional undercurrents are. It's only after the film unfurls, and obliquely hints (but never quite states) at a dark secret under the surface, that we can understand this introduction. Martha's obsessions with tabloid stories of death, and her antagonistic stance toward her sister (who, Martha feels, callously ignores her past) are signposts that point toward a deeper disturbance that lies within her. Martha… Martha is an uncompromising movie: you have to be wholly willing to accept it on its terms to get anything out of it, but it's worthwhile if you can. As the film continues, Martha's psychological instability becomes increasingly apparent. The fine crack in her psyche begins to splinter into a larger rift, putting stress upon her relationship with her husband and daughter. We can surmise what lies at the root of her problems, but there's always little surety when mucking around in someone's consciousness.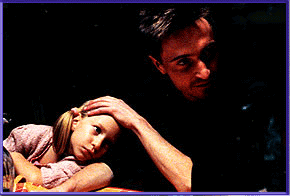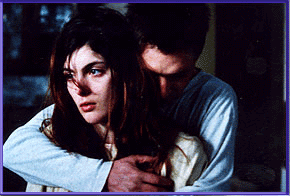 Just as her condition begins to reach a critical mass, however, she disappears from the screen for an extended period. When the focus of the film shifts to her husband's relationship with her daughter, the results are a bit cuddly, but not exactly satisfying. When she returns, Martha is a sedated shell of her former self. Assumedly, this regression must be realistic, but it brings us no closer to a real understanding of the initially fascinating lead character. The movie is a character study in which its lead character remains a mesmerizing, but unknowable cipher. Compared to some similarly hard-nosed recent examinations of the female mind, such as Rosetta and The Piano Teacher, Martha… Martha feels lacking because of that shallowness. Veysset's filmmaking is a rather no-fuss affair, and outside of a stylistically out of place dream sequence that suggests Martha's daughter's sunny disposition is a defensive front, there's little that stands out. Still, when checked against the dumbed-down attempts of Hollywood exercises like A Beautiful Mind to portray mental illness, Martha… Martha is a success. Even if it's finally up to us to decide what we see behind Martha's blank gaze, it's only because the film looks past the hedonistic symptoms of her behavior and grapples with finding something that resembles the truth behind her actions that we stand a chance of constructing plausible excuses. It's tough to imagine most people will prefer that sort of psychic realism to a glossy Russell Crowe movie, though.
***
02-21-02
Jeremy Heilman