Newest Reviews:
New Movies -
Abraham Lincoln: Vampire Hunter
Old Movies -
Touki Bouki: The Journey of the Hyena
The Strange Affair of Uncle Harry
Archives -
Recap: 2000, 2001, 2002, 2003, 2004 , 2005, 2006, 2007 , 2008 , 2009 , 2010 , 2011 , 2012
Investigating Sex (Alan Rudolph) 2002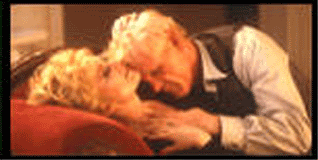 If Alan Rudolph is still to be considered one of Robert Altman's protegees, then Investigating Sex, his highly sexual talkfest set predominantly on the grounds of an upper-class estate, could easily be thought of as Gosford Pork. That pseudo-porn title probably suggests you'll see something more exciting than this pleasant, but sadly inconsequential, film offers, however. The cast is thankfully attractive, since they waste no time telling us about their sexual peccadilloes and carnal desires. Though we generally have to use our imaginations to put into pictures what is described, there are a few supposedly titillating glimpses into the fantasies of the lead characters (think disembodied breasts and Dermot Mulroney's wiener). Surely the American Surrealists were terribly interesting in reality, but here they just seem a bit petulant and tightly wound, and that seems a disservice to them. The biggest problem with the film is that for all of its supposed shock value, little actually manages to send off sparks. There's little actual hanky panky on display and the discussions that were held might have been shocking in 1920, but today's desensitized souls can hear more scandalous stuff on daytime television. We're supposed to giggle when these prim gentlemen (that the Surrealists are prim in the first place seems a miscalculation) say "clitoris," but it's more groan inspiring than anything.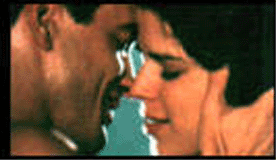 As the cast of American Surrealists goes about airing their sexual laundry, we sit there, waiting for the other shoe to drop. It never does. Investigating Sex becomes a rambling sex farce without much of a punch line. Despite one character's breathy insistence that "this is turning into something else," it never does turn into anything else. The film stays stuck in a rut that, while pleasant, doesn't ever soar. Still, there are some assorted pleasures to be found here. Nick Nolte and Jeremy Davies create charmingly idiosyncratic oddballs despite having less screen time than most of the otherwise less-than-stellar cast. Rudolph's witty dialogue occasionally impresses as well, with a few quotable lines ("I've never fooled around. Each time I was serious." or "I've never fallen in love. I've had to settle for making it.") emerging from the murk. Overall, Investigating Sex is a surprisingly dull affair that hardly compares with the best of Ruldoph's work (such as Choose Me or Mrs. Parker and the Viscous Circle). Its stodginess, which attempts to lend an air of legitimacy to these sessions, results in virtual impotency.
**
02-19-02
Jeremy Heilman