Newest Reviews:
New Movies -
Abraham Lincoln: Vampire Hunter
Old Movies -
Touki Bouki: The Journey of the Hyena
The Strange Affair of Uncle Harry
Archives -
Recap: 2000, 2001, 2002, 2003, 2004 , 2005, 2006, 2007 , 2008 , 2009 , 2010 , 2011 , 2012
Harmful Insect (Akihiko Shiota) 2002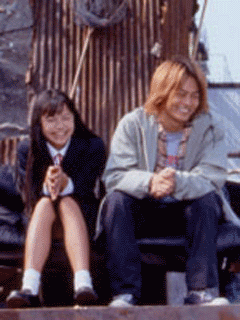 Thereís a key exchange of dialogue that occurs late into Harmful Insect, Akihiko Shiotaís perceptive portrait of teenage alienation that occurs after a near-accident. A trucker tells Sachi (Aoi Miyazaki), the filmís young protagonist, about the cat that he nearly hit with his car, ďIt made it across, so itís safe. When they pause out of fear, itís splat.Ē She asks pensively, ďDo you know what it feels like to get hit by a car?Ē Those words may not sound profound out of context, but in context, itís typical of the anxiety that hovers around the film. Sachi, a thirteen year old girl, has numerous issues that create in her a compulsion that drives her toward the things that sheís not supposed to be interested in. Her mother attempted suicide after her father left them, and there girlís bathroom at her school is filled with murmurs suggesting that she had a liaison with her sixth grade teacher. The film feels like a glum Japanese Ghost World, but the younger age of the protagonist makes the glimmer of hope that adulthood offers seem that much farther off.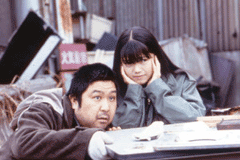 Sachi is a bit lost in the world, and the film watches as her teenage doldrums escalate into something more intense. Nothing feels safe in Sachiís world. Her friends gossip about her, so she rejects them and her school. Her motherís too busy flip-flopping between depression and denial to pay much attention to her daughter. Even her first kiss with a boy is tinged with the taste of smoke. Although she remains in her school uniform throughout the film, it seems to take on an ironic presence, because Sachi needs individual attention and the system seems to want to ignore that. The director cannot ignore her obvious problems, however. Itís only his camera that seems to notice the depths of her sadness. The blare of a carís horn and the blast of wind that hits her as she walks around a street corner seen to be omniscient warnings of the path that sheís going down. Harmful Insect is anchored by a great lead performance that seems to radiate the unspoken torment that lies within Sachi. As it impressively dances with the fulcrum of adolescent chaos, it paints a disturbing, but incisive, portrait of teenage angst. As of yet, the film remains undistributed in the United States, and thatís unfortunate. More than any other film Iíve seen since the Columbine tragedy, it illuminates the psychology behind seemingly random youth violence.
***1/2
02-26-02
Jeremy Heilman