Newest Reviews:
New Movies -
Abraham Lincoln: Vampire Hunter
Old Movies -
Touki Bouki: The Journey of the Hyena
The Strange Affair of Uncle Harry
Archives -
Recap: 2000, 2001, 2002, 2003, 2004 , 2005, 2006, 2007 , 2008 , 2009 , 2010 , 2011 , 2012
Friday Night (Claire Denis) 2002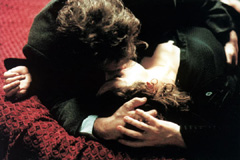 Claire Denisí Friday Night, an intensely, yet sensitively, realized account of a one-night stand, masterfully builds tension as it shows us its protagonistís very subjective point of view. The movie begins with dark falling on Paris as the score by Tindersticks member Dickon Hinchcliffe buzzes on the soundtrack, and the effect creates an otherworldly feel from something so ordinary as night falling. By the time the filmís title appears on the screen, thereís something palpable in the air that tells us that this night will be different. Thereís something magical and hypnotic about the way that the movie draws the viewer in with so little, but itís undeniable that it does, and continues to hold us there, spellbound, for much of the remaining running time. Denis is a master of visual storytelling. Her most recent films completely eschew narration where most any other filmmaker would include it, and as a result, they gain a sense of mystery and depth that more literal films lack. From start to end, with only a few significant exceptions, the viewer is thrust alongside Laure (Valťrie Lemercier), the female heroine whoís spending her last night of freedom before moving in with a boyfriend, and though she never explicitly articulates her thoughts, the combination of performance, shot composition, film stock, and music that Denis orchestrates gives the viewer a window into her mind.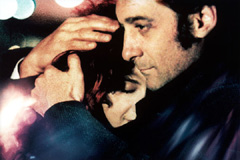 On this particular Friday Night, Paris is in the midst of a massive public transportation strike which has left the roads clogged with unending traffic and the sidewalks empty. The contrast between the overcrowded highways and the desolate walkways only further enhances the mood of the film, however. Each car is its own cocoon of emotions, and the people inside seem to each have their own concerns. As Laure sits idly in the street, she looks at the faces of other passengers, and the viewer canít help but wonder if they have a story as intense as hers. Out on the streets, people are too busy rushing off to take heed of one another, except when tensions flare. Since in this insular context, where no one seems to be watching what others are doing, transgressions seem wildly possible. The tension that arises when she picks up a hitchhiker is inescapable, because Agnes Godard photographs the film with such stunning and consistent proximity to the characters. We canít possibly get away from the mood that exists in the car, even when the characters nod off into a catnap. For all of its attempts to reinvent cinema as we know it, Abbas Kiarostamiís car-bound Ten doesnít have nearly as much emotion packed into it as this movie does. As the movie carries on, it reveals Laureís whims and desires with a surprisingly wry and droll approach, but much of its humor is deadpanned. It only flits past the audience the way that a passing thought does. Itís precisely in its rapt attention to those momentary impulses, however, that Friday Night builds its power.
* * * *
10-15-02
Jeremy Heilman