Newest Reviews:
New Movies -
Abraham Lincoln: Vampire Hunter
Old Movies -
Touki Bouki: The Journey of the Hyena
The Strange Affair of Uncle Harry
Archives -
Recap: 2000, 2001, 2002, 2003, 2004 , 2005, 2006, 2007 , 2008 , 2009 , 2010 , 2011 , 2012
World Traveler (Bart Freundlich, 2001)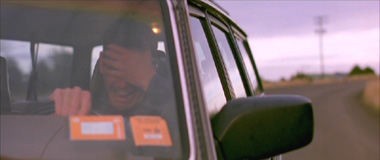 Since it's clearly sitting in the shadow of Bob Rafelson's masterful Five Easy Pieces, one can only realistically approach Bart Freundlich's World Traveler expecting it to pale in comparison. Of course it does, but that hardly seems reason to attack it, especially since the film is as earnest and well intentioned as it is. Featuring Billy Crudup in what almost feels like a variation of his winning role as Fuck Head in Alison Maclean's admittedly superior Jesus' Son, World Traveler meanders along in its road movie rut, attempting to find bits of wisdom during its journey, and within the intensely personalized parameters of its genre it succeeds. The prime asset of the film is its lack of cynicism in presenting the midlife crisis that afflicts Cal, the absconding family man played by Crudup. There isn't much interaction shown between him and his wife and son, but what we do see clearly that he loves his family, and even though he's granted new freedoms once he abandons them, he doesn't ever seem to forget them. Crudup's charisma as an actor makes it so that Cal is nearly impossible to dislike, even has he works toward his own self-destruction, and Freundlich indulges this trait at every turn. Because, the first half of the film shows Cal laughing at his own small jokes and accepting whatever life throws at him with the same pleasantly bemused demeanor, he becomes an endearing character, even before much narrative background is ladled out. Crudup's boyish looks seem a built in excuse for his character's immaturity, and because he is as magnetic a presence as he is, it doesn't feel like a surprise when people who share his fundamental problem begin to gravitate toward him.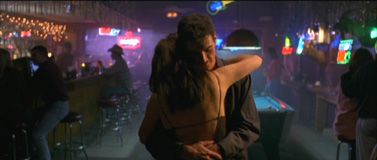 Even though it features a superb lead performance by an actor with the presence to make the audience want to follow him anywhere, World Traveler not the sort of film that sweeps awards or tops critics' top ten lists. It's too intimate and pensive for widespread acclaim, and because it risks relatively little, its detractors easily blow its mistakes out of proportion. Clearly, some of Freundlich's symbolism is a bit obvious (e.g. after one particularly nasty run-in Cal drives through a car wash with his window open to cleanse himself), but even when indulging in clichés, the presentation feels heartfelt. The plot often feels more schematic than naturalistic, presenting Cal with a series of fascinating encounters that seem too remarkable to be natural, but Freundlich partially excuses himself from those complaints by wrapping his story up with a few fast-paced dream sequences that push realism out of the picture. Whatever complaints I might have, I'd take World Traveler's earnest errors and hard-won rewards over the bombastic self-glorification of other feel-good fiascos like Antwone Fisher or The Emperor's Club any time.
* * *
01-24-03
Jeremy Heilman