Newest Reviews:
New Movies -
Abraham Lincoln: Vampire Hunter
Old Movies -
Touki Bouki: The Journey of the Hyena
The Strange Affair of Uncle Harry
Archives -
Recap: 2000, 2001, 2002, 2003, 2004 , 2005, 2006, 2007 , 2008 , 2009 , 2010 , 2011 , 2012
'R Xmas (Abel Fererra) 2001
Abel Fererra's 'R Xmas is a most curious movie, and one that I feel requires me to make a somewhat vague, and careful discussion, so its surprises aren't ruined (you might want to skip every other review written about this movie until after you see it, since it's doubtful many other critics will be similarly restrained). It begins rather innocently, by showing an elaborate children's production of "A Christmas Carol", and its opening moments seem to take place in the same privileged and idealized New York that the family scenes in Stanley Kubrick's Eyes Wide Shut do. Like Kubrick's film, though, there's something obviously bubbling under the surface – the demands of movie plotting dictate there must be - though it takes a while for us to piece together exactly what it is. There's something a bit too insistent about the way a father offers a bribe to a toy store employee in hopes of getting a sold-out doll for his daughter. We begin to notice that he's always tipping heavily in these early scenes. Is it just a case of too much Christmas cheer, or something else? By the time we watch the man and his wife leave their daughter at home, apparently on their way to a holiday party, and then watch, puzzled, as they make a pit stop to swap cars, we know that it's definitely "something else", though as it turns out that other thing doesn't necessarily preclude holiday cheer in Fererra's distorted version of the world.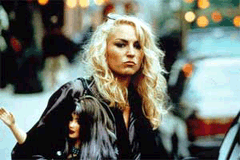 Though 'R Xmas might begin with scenes that are a little glossier than the average Fererra film, it offers this apparent calm mostly as a pretense, so that it can surprise us by eventually shedding it. Once Fererra gets down to business, his movie is roughly as gritty as anything he's done, but at the same time it's imbued with a moral center that may or may not be a giant gag (though the way he keeps his characters underlit suggests real sympathy for their ethical predicaments). Essentially, this is Abel Fererra's It's a Wonderful Life, though "A Christmas Carol" also had a similar Yuletide crisis of conscience at its core. By setting his film in 1993, a time when "family values" was still a catchphrase very much in vogue, there seems something inherently subversive in telling such a moral tale, and there's certainly a skewed, but fascinating, value system at work here (the wife complains that she's "sick and tired of workin' for nothin'", then spends $2500 on a few toys). It's to Fererra's credit that he never overdramatizes events here. He could have easily turned this material into something that's far more maudlin and less intelligent than this, but he wisely resists glamorizing the story by making it unduly exciting. Though the husband and wife (Lillo Brancato and Drea de Matteo) that the film follows remain unnamed, we know much about them by the time the film ends. Fererra stops telling their story (with a tantalizing "To be cont…") before resolving it completely, but that's entirely okay, since the exciting shift in his characters' paradigms happens when the ethical question is posed to them: not necessarily when a decision is made. There's no doubt that the experiences that the family goes through during the film push them closer together, and watching them under pressure illustrates how much love there is in their family. Like most morality plays, 'R Xmas is deceptively simple on the exterior. It's only once one begins considering its ambiguities and contradictions that it becomes something harder to pin down.
* * * 1/2
07-08-02
Jeremy Heilman