Newest Reviews:
New Movies -
Abraham Lincoln: Vampire Hunter
Old Movies -
Touki Bouki: The Journey of the Hyena
The Strange Affair of Uncle Harry
Archives -
Recap: 2000, 2001, 2002, 2003, 2004 , 2005, 2006, 2007 , 2008 , 2009 , 2010 , 2011 , 2012
CQ (Roman Coppola) 2001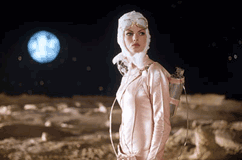 Roman Coppola's debut feature CQ begins as a promising mod-style romp through Paris, 1969, but as it progresses, the film begins to unravel. Under the guise of an intensely personal chronicle of an aspiring filmmaker's attempts to cope with personal and professional stresses, the movie unfortunately reveals itself to be a relatively empty exercise in some very stylish style. The accomplished opening scenes of the film establish Paul (Jeremy Davies) as an editor on the crew of a troubled campy science fiction picture entitled Dragonfly (worry not – there's no relation to this year's Kevin Costner train wreck). A colorful supporting cast is introduced which includes Gerard Depardieu as a maniacally obsessive auteur director, Jason Schwartzman as Felix DeMarco, his enfant terrible replacement, a hilarious Giancarlo Giannini as a blustery De Laurentiis-style producer (he pronounces Felix's name in a way that makes it sound like "phallics"), Angela Lindvall as the film's femme fatale action hero, and Elodie Bouchez as Paul's flight attendant girlfriend. It initially feels as if we've been cast into a Fellini-esque world of absurd caricatures, and that tone seems right for a movie that chronicles the wild frenzy of filmmaking (after all, it worked in 8 1/2). Unfortunately, after the initial thrill of Coppola's visuals dies down, we're left with a mimetic approximation of better films like Godard's Contempt.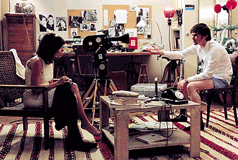 It doesn't help matters much that the films that Paul is involved in (besides the silly romp Dragonfly, he's also composing an indulgent and intimate black and white look at his life) are less than inspiring. Perhaps the most revealing scene about Paul's abilities occurs when he whines to his girlfriend, "I just want to capture what's real and honest," and she replies, "But what if it's boring?" There's much excitement about the future of the medium manifested in Dragonfly's science fiction trappings (and the ending seems to prematurely announce the arrival of a major new talent), but the film seems blissfully unaware that by 1969, most of the stylistic innovators that prompted the New Wave had already peaked. This might be partially because of the often bandied about, but hard to support, theory that the 70's, brought forth an even greater era in cinematic history – one that was fronted by Roman Coppola's father. Nashville, The Godfather, and Five Easy Pieces are fine films, to be sure, but they're nowhere near the breakthroughs of great 60's movies like 2001: A Space Odyssey, Bonnie & Clyde, Persona, Breathless, Jules and Jim, and L'Amour Fou. It's tough to be involved with the artist's dilemma when it's so self-serving as it is here, and just because a director wants to make a personal film without compromises, doesn't mean that the audience has to accept it. For all of CQ's talk about the importance of a stellar ending, Coppola doesn't seem able to give his debut a satisfying one. Clearly, the young director has potential as a filmmaker, but I don't think this film is much of a successful expression of his talent. In CQ he's clearly bitten off more than he can chew.
* *
05-27-02
Jeremy Heilman