Newest Reviews:
New Movies -
Abraham Lincoln: Vampire Hunter
Old Movies -
Touki Bouki: The Journey of the Hyena
The Strange Affair of Uncle Harry
Archives -
Recap: 2000, 2001, 2002, 2003, 2004 , 2005, 2006, 2007 , 2008 , 2009 , 2010 , 2011 , 2012
Bandits (Barry Levinson) 2001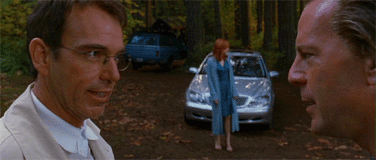 "They" like to say that Hollywood has lost its ability to make screwball comedy as well as they used to, but about an hour into Barry Levinson's Bandits, that's proven dead wrong. The film, which seems to combine Jules and Jim with Bonnie and Clyde, gets off to a rough start. Finally, in a scene that casts away the dead weight called Bruce Willis, Billy Bob Thorton and Cate Blanchett share a hotel room tango that incorporates their collective neuroses and tentative lust. It's unfortunate that it takes so long to get to this scene, since afterward the majority of the film cooks. Even when Willis is reintroduced, his character becomes more interesting. His presence adds a dynamic to the relationship that wasn't there before. There's a chaotic, lovely scene in a bar between the three of them in which "Just The Two of Us" plays incessantly on the jukebox, mocking their love triangle.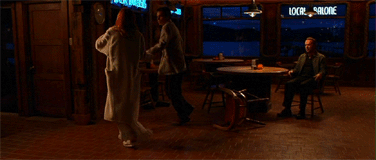 So much of the film is by the book, however, that overall it's far from the home run that these scenes deliver. The story follows its leads as they kidnap bank managers in order to rob banks more easily. It's tiresome to see a film justify criminals like this by making them clever, good-looking movie stars. It's even more clumsy and tedious when Levinson frames the picture with an America's Most Wanted-style show that functions as an obvious media critique. So many of the film's ambition falls flat. Whenever its focus shifts from the dynamics of the love triangle, things feel false and run of the mill. Luckily, the film is absolutely gorgeous. Dante Spinotti (The Insider, L.A. Confidential) shoots the film with a better sense of color and lighting than any work since Kubrick's Eyes Wide Shut. The setting never looks anything less than real (the film doesn't need to show mountains and moonscapes to dazzle), but it's filled with a wonderful vibrancy and tonal pleasantness that reminds me of Soderbergh's look in Out of Sight. It's the best looking American film so far this year (Wong Kar-Wai's In the Mood for Love admittedly surpasses it). Still, I have to recommend the film, if marginally. Billy Bob Thorton gives a stunningly funny performance, especially when considering the level of the material he has to work with. He gets laughs both out of his physical appearance (his disguises make him look disturbingly like Owen Wilson or Neil Young) and his uncontrolled neuroses (he doesn't want to go to Mexico due to "sanitation issues"). It's a winning turn that justifies a great deal of the pap on display.
* * *
11/01/01
Jeremy Heilman