Newest Reviews:
New Movies -
Abraham Lincoln: Vampire Hunter
Old Movies -
Touki Bouki: The Journey of the Hyena
The Strange Affair of Uncle Harry
Archives -
Recap: 2000, 2001, 2002, 2003, 2004 , 2005, 2006, 2007 , 2008 , 2009 , 2010 , 2011 , 2012
The Book of Life (Hal Hartley) 1998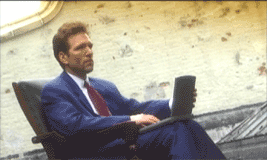 Set on the eve of the millennium (December, 31, 1999), Hal Hartley's The Book of Life manages to send up the notion of the apocalypse in Hartley's typically offbeat way. The film, which is shot on digital video, follow Jesus (Martin Donovan) as he wanders around Manhattan, pondering whether or not he should unleash his judgment upon the world. He is accompanied by Magdalena (P.J. Harvey) who is his personal assistant and confidante. In a little over an hour, with only about a half dozen main characters and only the barest special effects, Hartley weaves a fugue of hope, resignation, and a generalized sense of millennial tension. Few writers are better than Hartley at spinning memorable dialogue, and his stuff here is as good as anything that he's turned out. For example, when Jesus calls Lucifer (Thomas Jay Ryan) on his cell phone, he greets him with a simple, "It's me…" Hartley always underplays things, even when the world's about to end.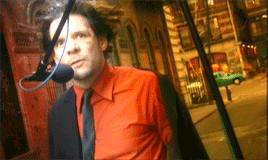 The film's obviously low-budget feel barely detracts from the overall work. Hartley takes his negatives (such as the sometimes abstract, sometimes amateurish digital video) and spins them into positives (the first sign of the Apocalypse is a video blip.) That he usually requires his actors to speak in ultra-mannered tones allows us to better appreciate the nuance and irony of the script. The satire doesn't undermine the emotional punch of the film, however, and the sense that there is something at stake behind Jesus' decision is palpable. Hartley films, which tend to be wonderful experiences, almost rely on an ability to ignore almost everything but the script and acting, and The Book of Life is no exception. It also reveals Hartley as a strict humanist, which tends to refute a lot of the slanderous accusations that he's a pretentious ironist. One can be glad that this film, which has a somewhat one-note premise, has been kept to a brief running time. As such, Hartley's film (which was created for a French TV series entitled 2000 As Seen By…alongside such films as Tsai Ming-liang's The Hole and Claire Denis' Beau Travail) is a deftly executed, wryly observed piece that admittedly pales in comparison to Hartley's greater works (Trust, Flirt).
***1/2
12-31-01
Jeremy Heilman