Newest Reviews:
New Movies -
Abraham Lincoln: Vampire Hunter
Old Movies -
Touki Bouki: The Journey of the Hyena
The Strange Affair of Uncle Harry
Archives -
Recap: 2000, 2001, 2002, 2003, 2004 , 2005, 2006, 2007 , 2008 , 2009 , 2010 , 2011 , 2012
Sidewalks of New York (Ed Burns) 2001 / Husbands and Wives (Woody Allen) 1992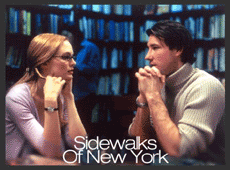 Ed Burnsí Sidewalks of New York is a stunningly blatant rip-off of Woody Allenís 1992 masterpiece Husbands and Wives. Like Allenís film, it follows six well-to-do white New Yorkers as they unknowingly trade partners with each other. Also like Husbands and Wives, Sidewalks employs a hand-held camera, editing that chops out the middles of many scenes, and a documentary framing device which interviews all of the principal characters. Itís rather astonishing that Burns would think few would make these connections, even if Husbands is one of Allenís most criminally underappreciated films.
The two films do differ somewhat, however. Allenís film really focused on the dynamics of a relationship. In his film, we saw the manipulations and passive aggressive tendencies that were necessary to achieve any sort of personal happiness when you were married to another person. It was a far more cynical and enlightening view of relationships than what Burns presents in Sidewalks. Burnsí stories mostly focus on the need for love versus the need for sex. Itís a good bit more facile than Allenís film, so itís exceptionally fortunate that Burns infuses the film with a sense of good-heartedness. The characters are all rather likable, and if I had to choose to spend actual time with either this cast or the cast of Husbands, I would pick Sidewalksí easily. It has to be said that although Burns draws some terrific performances from his cast (a bubbly Brittany Murphy and a surprisingly intelligent and vulnerable Heather Graham are the standouts here) he doesnít have a script that digs exceptionally deeply. Allenís film goes deeper than any romantic comedy that I could name, and his skill with his actors pays dividends. Every performance in the ensemble, with the possible exception of Liam Neesonís small role, is a stunner. Allenís scriptís humor mostly arises when his characters say that they will do one thing, and then a few scenes later do the exact opposite. He rarely underlines these discrepancies, which makes the film feel as if it is subtly snickering at them, rather than being completely judgmental of their actions.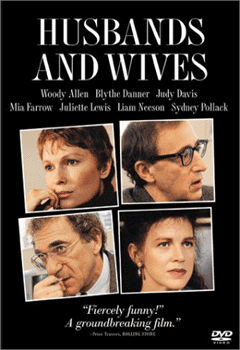 Iím not sure that Burns is a very good director at all, even if I enjoyed his film. Many of his stylistic choices donít feel entirely justified. I enjoy watching him as an actor, however (in my opinion, he was the standout in Spielbergís Saving Private Ryan). Itís quite interesting that he writes Woody Allen-type material here. Heís obviously far better looking than Allen, and as a result, he hands of the prototypical Allen role to the nebbish David Krumholtz. What is seriously lacking in his new film is the self-introspection that makes most of Allenís work so fascinating. In Sidewalks, Burnsí lead character is almost willfully unaware of the way that others perceive him, and the filmís eventual plot revolves around that naÔvetť. The film opens with Burns discussing his loss of innocence while standing in front of the World Trade Center (this caused the film to be delayed a few months), and at the end of the film, he still feels completely unaware of the ramifications of his behavior and unwilling to take choices to change his unhappy career path. Itís ironic that the film bothers to raise as many potential crises as it does for his character and then allows him to skirt obliviously past them all. Unlike Allen, who gives the impression that his films are a form of psychotherapy for him, Burns seems to raise these issues simply because the film heís emulating raised some. He remains an ideologically optimistic pup.
Allenís film is far more adult, and far more serious, and even if it has less love in its heart for its characters, the bit that shines through feels as if at has been earned. Like Sidewalks, Husbands and Wivesí release was surrounded by a controversy thatís nearly impossible to escape while viewing the film. It was the last film that Woody Allen and Mia Farrow made together before their relationship disintegrated, and as a result Farrowís role as a manipulative shrew seems a manipulation in itself. Itís a far more complex and patient character than any Burns has created thus far, and Farrowís portrayal of her is filled with the blackest comic energy imaginable. Allenís middle-aged character undergoes an affair with Rain (Juliette Lewis), a smart young college student, which is a subplot that might make some audience members squirm. A similar relationship in Burnsí film tellingly has little of the same effect. To me, the willingness to explore these issues is artistically brave, and Allenís paid the price for his supposed sins. It is about time that Husbands and Wives be revaluated on its own terms and seen as the masterpiece that it is. Sidewalks of New York is a very enjoyable film on its own terms, even as it pales in comparison. For less adventurous viewers though, the likable cast and warm tone might even make it preferable.
Sidewalks of New York - * * * 1/2
Husbands and Wives - * * * * Masterpiece
11-25-01
Jeremy Heilman