Newest Reviews:
New Movies -
Abraham Lincoln: Vampire Hunter
Old Movies -
Touki Bouki: The Journey of the Hyena
The Strange Affair of Uncle Harry
Archives -
Recap: 2000, 2001, 2002, 2003, 2004 , 2005, 2006, 2007 , 2008 , 2009 , 2010 , 2011 , 2012
Paris is Burning (Jennie Livingston, 1990)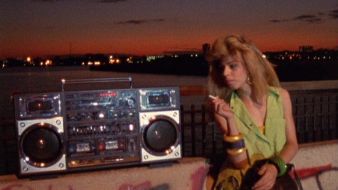 In Paris is Burning, her successful and highly influential non-fiction film, Jennie Livingston turns her camera on the pomp and participants of New York City's late 1980s drag scene. Presenting itself at first as a competition documentary, it spends its early scenes watching as the contestants get ready for the spotlight of a drag ball. Various competitive categories, such as "Schoolgirl" and "Executive Realness", are explained to the audience, and visual examples of each are paraded across the screen. The judges explain the criteria for success, and the contestants each take their spin on the converted dance floor. As Paris is Burning proceeds, however, it moves beyond the ballroom, emerging as a fuller picture of a subculture that either has moved much closer to the mainstream in the last 20 years, or has been the beneficiary of a mainstream culture that has splintered into an infinite number of subcultures itself.
Livingston is smart enough to realize that her subjects are best equipped to explain themselves. They are eloquent when clearing up their attraction to images of the rich and famous people that they see in the media, and their competition is explained plausibly as a way of creating their own spotlight in a world that won't give them one. Another interviewee compares their elaborate ritual to a street fight. A third speaker describes the political power held in advertising images in asserting a white, suburban way of life. Above all else, the word realness, or one's ability "to blend", is the key here. It's rewarded during the competitions, which simultaneously lends the contestants' art both a feeling of subversion and oppression. Each of these perspectives are valuable, especially to outsiders struggling to understand drag's purpose. Collectively, they help to give a philosophical meaning to an activity that is physical and ostentatious.
Paris is Burning doesn't probe, really, but it certainly documents an important moment in queer culture. Livingston walks the tightrope between celebrating her subjects and remaining subjective about them, even when presenting the less savory aspects of their lifestyles. In those instances, she allows the people that she interviews to explain why they turn to hustling and shoplifting to support their habits. In scenes like these, Livingstone captures the way that these drag queens tend to self-dramatize as much on the streets as they do in the clubs.
Paris is Burning offers a look at a vibrant subculture in the moment just before it was co-opted by the mainstream (Madonna's Vogue video was just around the corner). It does so respectfully, but also slightly disingenuously. The biggest, shadiest drama in the film erupts when a man attempting to present himself as a "real" man to an audience, is called out for wearing a women's fur coat during a competition. Still, there emerges an impression of these individuals, forming communities, and even surrogate families, which defy those that have rejected them. As Paris is Burning's tone gradually shifts from jubilant to sober, one becomes both aware of how much Livingston is protecting her audience from and how much such camaraderie is needed.
62
Jeremy Heilman
07.10.09