Newest Reviews:
New Movies -
Abraham Lincoln: Vampire Hunter
Old Movies -
Touki Bouki: The Journey of the Hyena
The Strange Affair of Uncle Harry
Archives -
Recap: 2000, 2001, 2002, 2003, 2004 , 2005, 2006, 2007 , 2008 , 2009 , 2010 , 2011 , 2012
Where is the Friendís Home? (Abbas Kiarostami, 1987)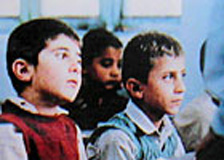 Thereís nothing thatís really wrong with Abbas Kiarostamiís thoughtful Where is the Friendís Home?, except that it doesnít have as much as an effect on me as such child-centric features as Children of Heaven, A Summer at Grandpaís, or even The White Balloon, which Kiarostami himself wrote. Home tells a simple story about Ahmed, a young schoolboy who one day accidentally takes his friendís notebook from school, prompting a desperate attempt to return it, lest his friend face expulsion at the hands of their hypocritical teacher. The rudimentary plot makes the proceedings feel at times like a whimsical, less convoluted take on the detective genre. The hero here though is a determined young boy, instead of a disillusioned old sleuth, who wanders through the unfamiliar side of town while meeting strangers and stringing together a series of directions that are so vague that they almost function as clues. Thereís a visual sense of mystery here too, as Kiarostami develops his sophisticated use of off-screen space to exhibit the sense of discovery that the boy feels while exploring. Frequently, the limited point of view of the protagonist is used so the audience cannot see a characterís face or ascertain where a noise is coming from. Unlike in his later work, in which he manages to keep major characters off-screen, however, the sources behind the disembodied voices that arouse the audienceís speculation are almost always revealed before the scene ends.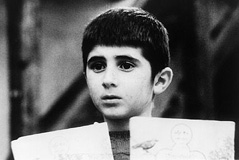 Though Kiarostami usually keeps the film focused on the titular mystery, he occasionally diverges to present observations that seem beyond his protagonist. Thereís a clear dichotomy set up between the townís two door salesmen, for example. One is old and experienced. He can claim to have worked on most houses in the villages and can speak eloquently about not only his handcrafted handiwork but also the inhabitants that he helped. His competitor is a brash and pushy young upstart, who orders steel door from out of town and treats the people that he deals with as mere business opportunities. Although these distinctions are simple enough for a child to grasp, Kiarostami barely exposes his young protagonist to them, instead allowing the conclusion to be made only by the audience. Similarly, as Kiarostami shows young Ahmed getting lectured time and again by those who are older than him, it seems as if heís building up to some sort of realization, but nothing really comes about from the inclusion of the theme beyond a better feel for the environment that the boy lives in. Though the sort of unaware focus on the goal at hand that the central character exhibits might be realistic, it doesnít make for an especially deep connection with the audience. Ahmed is a child though, and it might be silly to hope for his specific story to contain more provocative themes. Itís only because so many directors have done more with a similar set-up that Where is the Friendís Home? feels somewhat lacking.
* * *
01-08-02
Jeremy Heilman