Newest Reviews:
New Movies -
Abraham Lincoln: Vampire Hunter
Old Movies -
Touki Bouki: The Journey of the Hyena
The Strange Affair of Uncle Harry
Archives -
Recap: 2000, 2001, 2002, 2003, 2004 , 2005, 2006, 2007 , 2008 , 2009 , 2010 , 2011 , 2012
High Tide (Gillian Armstrong, 1987)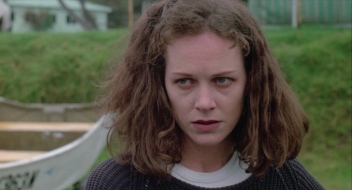 Admirable in its low-key approach to the estranged parent melodrama, but somewhat dull all the same, Gillian Armstrong's High Tide is indisputably a lesser effort from this accomplished filmmaker. What should be a showcase for star Judy Davis becomes something a bit too sleepy and intelligent to become anything close to a tour-de-force for the actress. Playing, Lilly, a backup singer for a dreadful Elvis impersonator, Davis is a bundle of ratty hair and pale skin. After getting dumped by her band, Lilly ends up economically stranded in a dead-end seaside town. There she meanders about waiting for her broken-down car to be repaired. At this juncture, High Tide inflicts a massive coincidence at its audience, which drives the rest of the plot, but strains credibility all the same. Lilly, it turns out, has abandoned a child, Ally (Claudia Karvan), who just happens to live in this small town. The randomly two meet up, unbeknownst to each other, and begin to strike up a tentative bond. Before long, the cat comes out of the bag, and Lilly's new chance at motherhood becomes an opportunity for a reappraisal of her life, with her past weighing heavily upon her while she struggles to decide upon her future.
High Tide simply will not work for audiences who fail to accept the massive contrivance at its center. What little plot there is here hinges entirely upon Lilly and Ally's secret identities. This story device is problematic because such a melodramatic twist stands in opposition to the quietly observational tone of the rest of the film. Armstrong uses the natural lighting her seaside locale provides and a minimal amount of music on her soundtrack to create an unaffected atmosphere, but the plotting works against any such effect. There is little in the way of subplot here to distract us from the ridiculousness at High Tide's center, either, leaving the film with a generally aimless quality. As this drama crawls toward its predictable reconciliation, it manages to eke out tension only in its final scene, which raises the question of whether or not Lilly is capable of changing her nature. Such stakes are absent throughout the rest of High Tide, which is content to take the path of least resistance. This sleepily constructed drama aims for subtle evocations of its characters' drifting emotional states, but ends up characterizing them with all the subtlety of a jackhammer.
36
Jeremy Heilman
06.15.11