Newest Reviews:
New Movies -
Abraham Lincoln: Vampire Hunter
Old Movies -
Touki Bouki: The Journey of the Hyena
The Strange Affair of Uncle Harry
Archives -
Recap: 2000, 2001, 2002, 2003, 2004 , 2005, 2006, 2007 , 2008 , 2009 , 2010 , 2011 , 2012
Choose Me (Alan Rudolph) 1984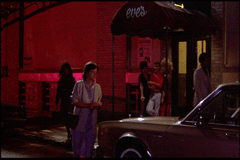 Alan Rudolph's Choose Me is a wonderful, exceptionally original film. With a close-knit cast that is comprised of an ex-prostitute barkeep (Lesley Ann Warren), an escaped mental patient who is a pathological liar (Keith Carradine), and a radio talk show sex therapist (Genevieve Bujold), among others, the film bemusedly asks the old joke: what happens when a group like this enters a bar? The resulting film is constantly wavering between being a romantic comedy and a film noir drama. That uncertainty, combined with the film's sets (which are obviously sets) and the definite rhythms (reinforced by the ever present Teddy Pendergrass soundtrack), makes the film feel like a mass delusion. This is appropriate, since the film's message is that we shouldn't look to others to find out how to live our love lives, and this is a thoroughly romantic movie. Appropriately, it closes with a perfect moment of apprehension that suggests the fragility of that message and questions the sureness of the film's resolution.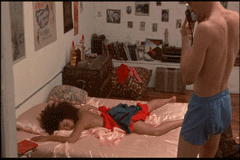 What distinguishes the film from so many romantic comedies is that the film's characters have been around the block a few times. They all have distinct baggage that colors their approach to love. Eve (Warren) as an ex-streetwalker doesn't want to get involved with yet another man, since she seems to attract the wrong sort, and doesn't seem that changing. Mickey (Carradine) has the opposite problem. He claims he doesn't kiss women that he doesn't intend to marry, and ultimately ends up breaking a lot of hearts, since he's hardly selective about whom he kisses. All of these characters feel richly sketched, because they are busy worrying how their relationship will be perceived by others, what it's "supposed to be", if they will be who the other person wants them to be, and if they are feeling the right things, rather than whether or not they're happy. These neuroses are caused by a world that offers up plenty of suggestions and expectations about what love should be (films, psychotherapy, self-help, and prostitutes are only a some of the movie's examples) but few answers.
The masterful thing about Choose Me is that it never for a moment feels forced. Every bit of quirkiness is allowed to flower enough to register, but never feels so odd that it distracts from the film's emotional core. Rudolph's script walks a real tightrope throughout the film, but somehow maintains an easygoing grace. He builds a distinctive world here without shutting out reality entirely, and as a result creates a film that feels strangely self-aware that it's breaking its own rules. The fantastic ensemble's general understatement helps a lot in keeping this from all boiling over into kitsch. They create characters that are understandably eager to connect with another person, despite their awareness of their inadequacies, and that willingness to be open makes them thoroughly endearing. Films that let us get in close with characters, see their faults, and then end up loving them despite them are way too rare, so it's unfortunate that Choose Me seems to be rather underappreciated. Though the film's hairstyles and costumes might have dated a bit since 1984, its mixture of intelligence and sentiment hasn't dated at all.
* * * *
Jeremy Heilman
12-16-01