Newest Reviews:
New Movies -
Abraham Lincoln: Vampire Hunter
Old Movies -
Touki Bouki: The Journey of the Hyena
The Strange Affair of Uncle Harry
Archives -
Recap: 2000, 2001, 2002, 2003, 2004 , 2005, 2006, 2007 , 2008 , 2009 , 2010 , 2011 , 2012
Manila By Night (City After Dark) (Ishmael Bernal, 1980)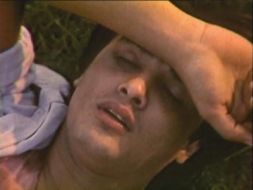 The seedy underside of the Philippines' capital city threatens to overtake the carefully constructed illusion of decorum in Ishmael Bernal's politically damning Manila By Night (City After Dark). A histrionic melodrama that plays out on an epic scale, it genuinely warrants comparisons to the great works of the Italian neorealists and Altman's Nashville. As an updated work of neorealism, it makes a political point largely through the unvarnished depiction of a desperate way of life. This stark, but boisterous, film stands as a clear counter to the Marcos era's insinuations of social progress. It undermines the city's promise of a better life to those from rural areas with its incessant parade of disappointment. Comparisons to Nashville seem apt due to its sprawling narrative structure and its penchant for emotionally explosive situations. Like Altman's ensemble satire, Manila By Night simultaneously evokes and condemns an entire way of life. It pushes our noses into the raw realities of existence for a large group of prostitutes, drug addicts, homosexuals, and housewives, then asks us to ponder the toll that their excesses take on their weary souls.
Everyone in Manila By Night seems touched by some form of depravity, yet tries to mask that fact. The most extreme case is a mother who struggles to raise her children in a responsible manner, while hiding her past stint as a prostitute, but from a gay man who stashes a lover in the bathroom when his boyfriend shows up, to an unmarried girl who discovers she's pregnant, to a young man who hides his drug use, the entire cast is desperately struggling to keep up appearances. For two and a half hours, Bernal takes us through a series of street corners, dance clubs, and slum apartments. Although few bastions of morality are present to wave a finger at the parade of vice, the sheer sustained decadence makes a case for change. One adulterous sex scene in particular, which is interrupted when Bernal cuts to reveal two children sleeping on the floor a few feet away, drives home the theme. Tawdry pleasures await around every corner in this city, and threaten to undermine the stability of the home. Such a message might sound alarmist, but Bernal's plot spans so far and his depictions of hedonism are so pervasive that any counter argument becomes tough to formulate.
Near the end of Manila By Night there's a bout of forced hopefulness, in which we're told by a narrator of everyone's eventual happy fate. The moment rings false, since it's entirely obvious that these characters, and the city by proxy, are on a downward spiral. To be sure, as soon as the list of better futures is read off, Bernal puts us back in the confused, corrupt present. As his characters are shown again aimlessly wandering the streets of the capital city, the reach of Bernal's critique, and the reality of Manila's social situation, once again sink in.
73
Jeremy Heilman
08.16.09