Newest Reviews:
New Movies -
Abraham Lincoln: Vampire Hunter
Old Movies -
Touki Bouki: The Journey of the Hyena
The Strange Affair of Uncle Harry
Archives -
Recap: 2000, 2001, 2002, 2003, 2004 , 2005, 2006, 2007 , 2008 , 2009 , 2010 , 2011 , 2012
Hopscotch (Ronald Neame) 1980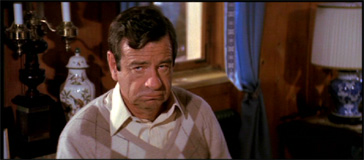 Ronald Neame's cheeky spy comedy Hopscotch isn't quite an awful movie, but it's so thoroughly and relentlessly mediocre that one has to wonder how it managed to find its way into the usually excellent series of DVDs in The Criterion Collection. There are several films in their collection by directors that are less well known (The Blob, The Vanishing), and there might be a few movies that are worse (The Rock springs to mind), but out of the 150 or so films that they've selected to this point, this is clearly their least interesting choice. The reason that I bring up its DVD release is because I sincerely doubt I'd ever have seen the film had it not been selected by Criterion for release. Neame (The Poseidon Adventure) is a hack director whose oeuvre I don't have much interest in exploring and Walter Matthau, star of Hopscotch is far from my favorite actor. After viewing the film, my opinion of the two hasn't changed a bit.
In Hopscotch's early scenes, we're introduced to Kendig (Matthau), an amicable CIA agent who doesn't use a gun and is on friendly terms with enemy agents. He seems to be completely complacent in his position in life, and after he uses his quirky techniques to quickly overthrow a Soviet operation, instead of waiting for the okay from his superiors, he's quickly kicked out of the agency. When he confronts his chief (Ned Beatty), he starts talking tough, and the switch in his persona seems a betrayal of the character that has been built up to that point. It soon becomes apparent, however, that this is par for the course in Hopscotch, where characters often change their attitudes to fit the demands of the silly plot. Matthau is in nearly every scene of the film, and nearly nothing ever rises above the doddering tone that he sets with his performance. The film is presumably meant to be playful, since it follows him as he extracts his bloodless revenge on those who have supposedly wronged him, but since Matthau never manages to exude much charm, it feels less playful than inconsequential. His character listens to classical music, and often whistles or hums a few bars of it between the scenes where he mugs for the screen, but nothing adds any class to this wreck. The décor is filled with ugly artifacts from the early '80s that might be temporally correct, but are visual eyesores. The romance that springs up between him and a wealthy widow (Glenda Jackson) is mostly gross, since the age difference between the two is so horribly evident. When they embraced, my stomach almost turned. Thankfully, there's no nudity.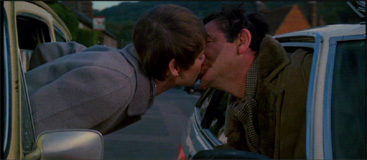 Hopscotch attempts to build suspense occasionally, by keeping us in the dark about how Kendig's plans will unfold, but it completely fails to since it's stuck in the same slack jawed mode in every scene. There's next to nothing that resembles a set piece or an action sequence for almost the entire running time, which must distinguish it in some way from nearly every other spy thriller ever made. Unfortunately, there's not much of interest in the stead of action. The dialogue is absolutely dreadful in spots. The most apropos moment came when Jackson's character chastised Matthau's by exclaiming, "This is indefensible!" as he walks around dressed as a cartoon Arab. Indeed, this scene, like and many more in the film, is. If watching Matthau imitate Eleanor Roosevelt on the telephone sounds like a good time, then by all means check out Hopscotch. For the rest of humanity, I'd recommend Criterion's DVD of a much better light spy thriller, the Cary Grant / Audrey Hepburn bauble Charade, in which Matthau coincidentally plays the villain of the piece.

* 1/2

08-22-02

Jeremy Heilman