Newest Reviews:
New Movies -
Abraham Lincoln: Vampire Hunter
Old Movies -
Touki Bouki: The Journey of the Hyena
The Strange Affair of Uncle Harry
Archives -
Recap: 2000, 2001, 2002, 2003, 2004 , 2005, 2006, 2007 , 2008 , 2009 , 2010 , 2011 , 2012
Coming Home (Hal Ashby) 1978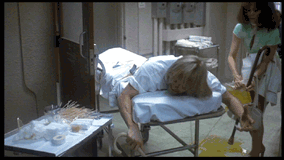 Clearly, Hal Ashby's Coming Home was meant to be an "Important Film". As one of the first major motion pictures to critically examine the home-front's reaction to Vietnam, it was surely more polarizing in 1978 that it is these days, especially due to the presence of actress / activist Jane Fonda. The film's anti-war politics are adamantly made clear, to the detriment of the rest of the work. Nearly all of the film's problems lie in the oversimplifications found in its script that exist so it's impossible to come to any favorable opinion of American involvement in Vietnam. The way that after seeing her husband off to 'Nam, a woman immediately changes from a skirt to pants or the way Fonda's character demonstrates her initial patriotism by refusing to turn off a television broadcast of the "Star-Spangled Banner" are moments of obvious shorthand that belie the overall intelligence of the film. It's hard not to sympathize with the plight of the disabled veterans that we see, so to railroad us toward a singular opinion of them feels cheap and unnecessary. The refreshing vérité styling of several of the scenes where we see the veterans in a group only underlines the manipulations found elsewhere.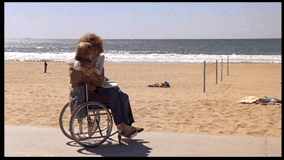 Politics aside, there's little to complain about in Coming Home. Ashby's direction is incisive and rarely allows overstatement, and the film evokes its period with an uncanny accuracy. The editing is especially noteworthy here, and the non-intrusive integration of its pop soundtrack should serve as an example to filmmakers today that often let their music dictate the mood of the scene instead of using it as accentuation. Haskell Wexler's earthy cinematography pushes the film's mood from the didactic and glitzy toward the realistic. The first scene where we see Fonda doesn't present her as anything other than a face in a crowded restaurant, though the notable lack of glamour lighting throughout makes the mood lighting of a sex scene feel aberrant. Fonda, and especially Jon Voight, give excellent performances and even if their characters change a bit too conveniently and quickly to be totally believable, they lend the melodrama enough power that it never feels cloying. Bruce Dern paints his Marine Captain with strokes that are, perhaps, a bit too broad, though that may be more the problem of a script that hates his character's point of view than any deficiency of the actor. The forgivable thing about the motivational messiness in Coming Home is that it seems to reflect the nation's confused and conflicting attitudes toward the Vietnam War. The film ends almost without a resolution and that unsettled feeling seems appropriate. Thankfully, its makers were clear-sighted enough not to confuse their self-imposed sense of importance with the illusion that they had definitive answers.

* * * 1/2

4-18-02

Jeremy Heilman