Newest Reviews:
New Movies -
Abraham Lincoln: Vampire Hunter
Old Movies -
Touki Bouki: The Journey of the Hyena
The Strange Affair of Uncle Harry
Archives -
Recap: 2000, 2001, 2002, 2003, 2004 , 2005, 2006, 2007 , 2008 , 2009 , 2010 , 2011 , 2012
The Possessed (Jerry Thorpe, 1977)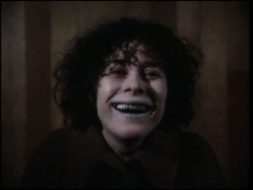 A made-for-television movie clearly designed to capitalize upon the blockbuster success of 1973ís The Exorcist, 1977ís The Possessed is more worthy than its nearly nonexistent reputation might imply. Although this telefilm sticks rather closely to the narrative arc set down by Friedkin and Blatty, it distinguishes itself with its unusual setting and strong performances. Things begin on a rather bizarre note as an alcoholic priest is introduced and then immediately killed in a car crash. Upon hearing what is presumably the voice of God, he is ordered to return to life to smite evil. From this point, the action flashes forward to an all-girls school in Salem, Massachusetts, where the rest of the story will unfold. After a few characters have been introduced, we discover that a series of mysterious, spontaneous fires have ignited, endangering the girlsí lives. The priest materializes to lend his investigatory services, setting the plot in action.
In its broad strokes, The Possessed sounds dull but the cast helps to enliven things somewhat. Foremost, a positively unhinged performance by Joan Hackett provides the scares. As a bonus, a pre-Star Wars Harrison Ford is featured in a small but important role as a biology teacher. The ensemble as a whole works to convince us that they are in mortal danger after only a few fires have occurred. Still, this is a made-for-television movie, which limits its ability to function effectively as a horror film somewhat. The simple fact is that a good part of the reason that The Exorcist caused such a sensation upon its release was likely because it offered the spectacle of a young girl defiling herself verbally and sexually. As The Possessed was made for network television, it cannot show much in the way of profanity, gore or sexual deviance. Director Jerry Thorpe tries to coast on the hothouse atmosphere of the all-girls school, and indeed manages to create a claustrophobic air, but the ultimate ratio between build-up and payoff comes as something of a disappointment. The movieís climax is truncated and abrupt. This is indicative that the exorcism angle and the character of the priest are the least satisfying aspects of the film, which seems to want to tell a more nonspecific ghost story. Indeed, the brooding, unresolved backstory of the ex-priest makes The Possessed feel like a bad television pilot at times. Itís only when this somewhat labored piece of horror deviates from that character that it effectively builds tension.
53
Jeremy Heilman
07.21.12