Newest Reviews:
New Movies -
Abraham Lincoln: Vampire Hunter
Old Movies -
Touki Bouki: The Journey of the Hyena
The Strange Affair of Uncle Harry
Archives -
Recap: 2000, 2001, 2002, 2003, 2004 , 2005, 2006, 2007 , 2008 , 2009 , 2010 , 2011 , 2012
Sebastiane (Derek Jarman & Paul Humfress, 1976)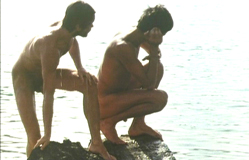 Sebastiane, the cult film that marked the debut feature by gay experimental filmmaker Derek Jarman, treads an almost imperceptible line between using devout fidelity to ratify its source and using rampant infidelity to undermine it. Set in 303 A.D., the film provides a blow-by-blow account of the exiled Roman soldier, devout Christian, and eventual Saint Sebastian who is martyred for rejecting the sexual advances of a commanding officer. After an extended sequence that takes place during a Roman orgy and recalls Kenneth Angerís gaudy Inauguration of the Pleasure Dome, the locale shifts to a remote military outpost, where the rest of the film unfolds. Similarly to The Gospel According to St. Matthew, also directed by a gay man, itís difficult to tell from whatís on screen alone whether or not Sebastiane is celebrating the Saint or deriding the religion that chose him as an ideal. Whereas Pasoliniís Gospel used a nearly neo-realist approach that somewhat obscured his political intentions, Jarman and his more glitzier style appear to have a clearer agenda. The primary concern of the film seems to push the boundaries of whatís acceptable on screen. Just as the old silent Biblical epics allowed filmmakers to legitimize tales that were laden with sex and violence, Sebastiane uses its context to justify the presence of copious amounts of full frontal male nudity and characters that openly have same-sex intercourse.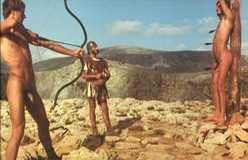 As opposed to the coy talk of oysters and snails that dotted sword and sandals epics such as Spartacus, Jarman packs Sebastiane with overt homosexuality. While Iím not versed enough in the history of the time to say to what degree this portrayal of the soldiersí sex lives is historically accurate or embellished by gay wish fulfillment, within the diegetic world of the film, it makes sense. One suspects though that historical accuracy was a prime concern here, if only to make a statement about the factual whitewashing that typically occurs in the genre (oddly the violence never seems to be excised). The filmís dialogue is all spoken in Latin and the costumes, while scant, feel believable. The prime element that seems out of place on historical terms is the effective score, composed by modern minimalist Brian Eno. Otherwise, Sebastianeís production values are more than sufficient to give the impression that the viewer is watching an actual group of Roman soldiers as they train and frolic. Though the actors never make the combination of homosexual overtones and a regimented military lifestyle have the emotional resonance that it did in Claire Denisí masterpiece Beau Travail, Sebastiane nonetheless manages to be a captivating, and titillating, original.
* * * 1/2
06-05-03
Jeremy Heilman