Newest Reviews:
New Movies -
Abraham Lincoln: Vampire Hunter
Old Movies -
Touki Bouki: The Journey of the Hyena
The Strange Affair of Uncle Harry
Archives -
Recap: 2000, 2001, 2002, 2003, 2004 , 2005, 2006, 2007 , 2008 , 2009 , 2010 , 2011 , 2012
A Delicate Balance (Tony Richardson) 1973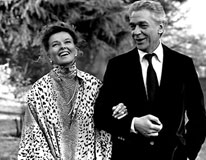 The characters in Tony Richardson's stripped down adaptation of Edward Albee's family psychodrama A Delicate Balance always waver between expressing unconditional love and unrepressed bile for their loved ones before settling down into a somewhat unsatisfactory, but familiar, ambivalence. One could complain that it's simplistic that every close relationship here seems to operate by seesawing on a fulcrum between love and hate, but the film argues any less rigorous assessment of one's closest confidantes would be a willing repression of one's truest feelings. There are three masterful performances here, specifically the ones by Katherine Hepburn, Paul Scofield, and Kate Reid, that slice directly through the theme though, and make it feel immediate and fresh. Because of the top-notch acting, and the intensity of Richardson's frequent, uncomfortably close close-ups (most specifically the harrowing sequence where Reid's Claire describes her abortive attempts to attend Alcoholics Anonymous meetings) it often feels as if we've been cast into the fray ourselves, and in that situation it's difficult not to consider looking at our own relationships through the same harshly appraising eyes as these characters.
The film opens as Agnes (Hepburn) and Tobias (Scofield) finish their evening meal in their massive New England Home. As they move into the drawing room for an after-dinner chat, Agnes pulls the door shut behind her, before saying a word, effectively locking us in for the duration. Before long, Albee's presence is felt though, and characters start describing their desires to go mad or murder their family in the wittiest possible terms. The cast of the play is a universally sad lot, but they're well-rounded, since each of them exhibits a very real ability to show compassion when they need to. The movie spans three days in Agnes and Tobias' lives as they are beset upon by their 34-year old daughter, who is returning home after her fourth marriage has crumbled. Before she arrives, however, the couple's best friends show up unexpectedly, and move in, citing an unspecified "terror" of their home. Through this motley sextet, the film examines a variety of relationships, both familial and not, and finds that they all put similar strains on those involved. It forces Agnes to look past the happy denial that she usually projects and makes Tobias realize that his magisterial presence has taken its toll on those around him. The sardonic humor that Albee uses here is as scorchingly funny as any he's used. More surprising than the acerbic tone or the intense shouting matches though is the very touching sentiment that emerges whenever a quiet moment transpires. Thanks to the efforts of the cast and the perceptiveness of its script, A Delicate Balance is a worthwhile effort, if not one that surpasses Mike Nichols' Who's Afraid of Virginia Woolf? in quality.
* * * 1/2
08-02-02
Jeremy Heilman