Newest Reviews:
New Movies -
Abraham Lincoln: Vampire Hunter
Old Movies -
Touki Bouki: The Journey of the Hyena
The Strange Affair of Uncle Harry
Archives -
Recap: 2000, 2001, 2002, 2003, 2004 , 2005, 2006, 2007 , 2008 , 2009 , 2010 , 2011 , 2012
Robinson Crusoe on Mars (Byron Haskin, 1964)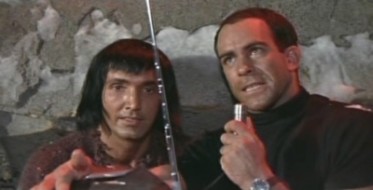 Reimagining Daniel Defoe's literary classic as a science-fiction spectacle, Robinson Crusoe on Mars makes for a visually inspired, if finally hokey, adventure yarn. Surprisingly, almost distractingly, faithful to the original novel despite its radically different setting, the film is a pleasure mostly because of its vivid Technicolor backdrops. Replacing the deserted isle from the book with the equally desolate Martian surface, this movie has a vividly rendered sense of space, which is impressive given how divorced from reality it is. Just about every scene of this colorful feature features an imaginative flourish of set decoration or special effects, whether it is the giant fireballs that slowly roll across the red planet's landscape or the sight of the bizarre, sausage-like plants that eventually reveal themselves to be the hero's main source of sustenance. The visuals are not without antecedents, and they will prove pleasurable to any fan of the 1950s science fiction genre. The design of alien ships that harass Cmdr. Draper look extremely similar to those from 1953's The War of the Worlds, which director Byron Haskin also made. The analogue dials of the stranded astronaut's equipment will elicit retro giggles. Some of the sets look as if they could have been left over from a previous space epic like Forbidden Planet. As an example of the visual touchstones of its genre, one could hardly do better than Robinson Crusoe on Mars.
Once one starts looking beyond the visuals, however, the film is a mixed bag. Reliance on Defoe's novel provides a solid foundation for the film's existence, but the unquestioning fidelity to some of the original plot's details begins to grow ridiculous after a while. This is especially clear when Vic Lundin's Friday arrives on the scene. The condescending attitude that Defoe exhibited toward his book's slave is slavishly adapted here, resulting in an anachronistic and mildly offensive tension that remains unresolved. Worse yet, this "Crusoe" never seems to find any real degree of affection for his ward, making the relationship even more problematic. This kind of backward thinking dooms the film to be thought of as a nostalgia item, at best, instead of a thoughtful updating of a timeworn story. Even if the Robinson Crusoe on Mars is less than a total success on its own terms, it can be celebrated for proving the resiliency of a literary classic, as problematic as that scheme might be.
52
Jeremy Heilman
01.06.08