Newest Reviews:
New Movies -
Abraham Lincoln: Vampire Hunter
Old Movies -
Touki Bouki: The Journey of the Hyena
The Strange Affair of Uncle Harry
Archives -
Recap: 2000, 2001, 2002, 2003, 2004 , 2005, 2006, 2007 , 2008 , 2009 , 2010 , 2011 , 2012
A Tree Grows in Brooklyn (Elia Kazan, 1945)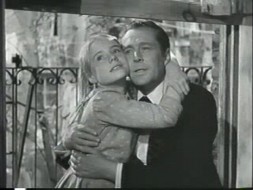 Elia Kazan serves up a large helping of what passed for bleak realism in 1940s Hollywood with his A Tree Grows in Brooklyn. Adapted from Betty Smithís period tearjerker, its story centers on the day to day life of a small, Irish-American family of four who live in a Brooklyn tenement. Told using an episodic structure, this movie bears the scars of its adaptation to the screen plainly, but thanks to its emotionally charged performances and its sensible resistance to overstatement, it avoids easy conclusions and overt sentimentality.
For a film that focuses on children, Tree is surprisingly blunt about the realities of the world. The biggest strength of the movie lies in the way it conjures characters that are too complicated in their flaws to be fixed with an easy realization of their faults. How their shortcomings collectively shape the perception of young Francie (Peggy Ann Garner, seemingly wise beyond her years) becomes the driving force of the narrative. Francie becomes both a symbolic barometer of the familyís suffering and the glue that holds the family together during trying times. Her resolve in the face of an alcoholic father and a hard-hearted mother (a brave, unlikable performance from Dorothy McGuire) gives the movie its heroic angle, but itís less a testament to the girlís nature than a harrowing examination of the toll that a life lived under the shadow of disappointment takes.
Boasting exceptionally handsome art direction (whether such visual elegance is an asset or a detriment to its vision of poverty is someone elseís argument to make, really) and sharp lensing, A Tree Grows in Brooklyn packs the full power of the Hollywood establishment behind it. Rarely has the dream factory lavished such skill on such destitution and such insistence that people are not really that changeable in nature. The insistence here that disappointment is part of the maturation process is still somewhat sobering. Bowdlerized as they might be, the parents in Tree scarcely seem like ideal role models, or even signifiers that the nationís future will be brighter, despite Grandmaís insistence otherwise. For a movie so out of step with the optimistic character of its era, itís A-level production values are surprising. Nonetheless, it is its self-sureness, and the fact that it was a period piece upon its initial release, that has lent A Tree Grows in Brooklyn at least a mild aura of timelessness.
63
Jeremy Heilman
2.13.09